Setting the Mood for a Night of Pleasure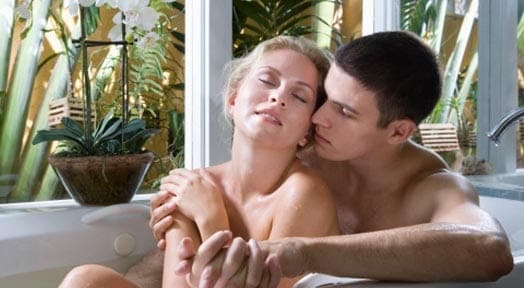 Pop Quiz… when does the sexual experience begin? Is it by setting the mood or is it the first time you think about sex? If you answered from the very first moment you think about it – you're right. If you didn't then you may want to rethink your timing a bit. The minutes and hours leading up to sex are filled with opportunity for those who would want to take advantage of them by setting the mood.
How setting the mood for sex is important
Clean House
Want to know what really turns women on? Well according to a recent study the answer is hiding in your linen closet. A poll of women surveyed answered that clean sheets was a huge turn on. So make your bedroom sex ready by cleaning up all of your sweaty gym clothes and washing those stinky old sheets that have been on your bed for weeks. Don't have time? Hire a cleaning crew to come in and clean up. Not only will you feel sexier but your woman will be ready to take her clothes off in every room of the house.
Start a Sexy Conversation
Talking about your fantasies can actually make the act of sex more rewarding, pleasurable and meaningful. Male or female, young or old, don't underestimate the power of talking about your desires. Don't be afraid to let the conversation go in unexpected directions. Maybe she has always fantasized about being with another woman but was too embarrassed or shy to admit it. This might not necessarily mean that she wants to act on it but maybe she would enjoy watching some girl on girl porn while you talk dirty like you are having a threesome. The mind is a very powerful tool and stimulating your imagination through conversation is a great way to kick off an evening of pleasure.
Get the Music Right
Do you enjoy a little Marvin Gaye or Keith Sweat to get your mind in a sexy mood? You don't have to be a DJ or spend hours putting together the perfect playlist to get the music right. Thanks to sites like Pandora it's easy to find the right genre to get both of you feel like making love.
Be Playful: setting the mood
Indulge her naughty side with sexy games and toys. If she wants to try out some handcuffs, blindfolds or body paint be game. You can even draw a sexy bubble bath with essential oils and candles. Whatever ever it is that makes her feel sexy, if you keep an open mind into what will stimulate her sexually it will make her more adventurous in the sheets.
Whether you get lost together in the gentle glow of candlelight and sensual music. Even more playful pursuits can help intensify the connection between partners. The point is to do things together – before, during and after your sexual encounters. So remember this advice when setting up for a night of romance and pleasure with that special someone.
Most Recommended