Sex Moves That Makes a Woman Happy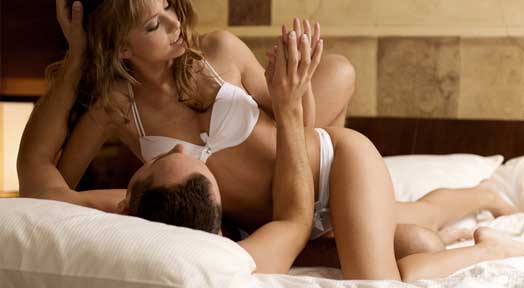 They say that the motion of the ocean, not the size of the boat, is what matters when it comes to sex moves that makes man or a woman happy. If that is true, then it stands to reason that figuring out how to properly 'move' is pretty important for your sex life.
5 Sex Moves you are doing all wrong
With this in mind, there are several common sex moves that most men fail to deliver correctly to make a woman happy. Let's take a deeper look at what moves you might just be doing wrong in the bedroom.
Doggy style done right
Doggy style seems like a simple enough sex move that probably is one of your staple go-to moves but there is a good chance your partner might not feel like it is the best way to get the job done. This could be because she simply doesn't enjoy that position, but it is more likely that you aren't executing it properly. Next time you pull out this move place a pillow under your partner's hips, keep one leg bent and the other one straight. She will appreciate the change.
How to do oral sex: sex moves that makes a woman happy
Yes this is a pretty common sex move that women complain about, but if you are doing it wrong your privilege of heading down south won't last long. The best advice to giving incredible oral sex is to watch your partner pleasure herself and see what she likes. Every woman is different, so her likes and dislikes will be based off of personal preference.
The right way to do missionary
Missionary is a favorite of traditional guys, but this position lacks any real power to give your woman pleasure. If you are doing it wrong it can be even worse. The best way to make this move more pleasurable all the way around is to put a pillow below her butt and tilt her pelvis forward. This will increase stimulation of the g-spot, which is what all women are looking for.
Dirty talk the way she likes it: sex moves that makes a woman happy
While this might not be a physical sex move, it is something that stimulates your girl to get more into the moment, and if you suck at it she will notice. Work on your delivery as that is often the biggest complaint that women have about sex talk. If it sounds awkward and unnatural then it won't be any fun for either of you.
Take your time with foreplay
Forcing your way through foreplay is another move you're probably doing all wrong. Women like foreplay because it gets them in the mood. If you fail to provide her with the amount of foreplay she needs you will find yourself on the receiving end of an unhappy partner. Do your due diligence men and strive to be better in bed. You will be happier, and so will she.
Most Recommended