What Her Tattoo Says About The Kind Of Girl She Is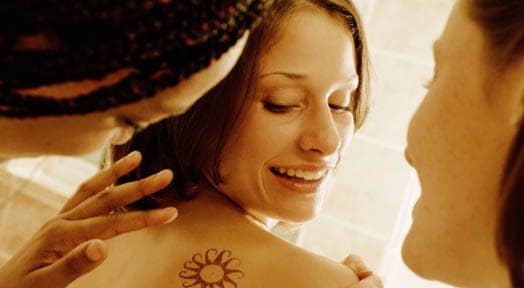 Tattoos have recently become more mainstream then ever and ladies have jumped full swing onto the bandwagon. But if you want to avoid certain types of ladies you may want to consider what type of tattoo she has. Of course, where a woman gets her tattoo has almost the same amount of significance as what the tattoo itself says. Here are the most common places women get tattoos and what their placement means.
What her tattoo says about her
The Tramp Stamp.
You had to see this one coming, common in young college age girls the Tramp Stamp has quickly become iconic of seemingly 'down to party' type ladies. If you like a girl who is wild, sexy, and who loves to party then look for the stamp that says it all.
The Foot Tat.
Tattoos on the foot are some of the most painful to endure as the skin is extremely thin in this region of the body, so if your girl has one on her foot you can consider her to be tough. In addition to painful placement, feet tattoo's generally come with a little bit more class and can be seen on higher class women.
Over the Shoulder.
Perhaps her tattoo means something to her, or she is making a statement. Girls that opt for over the shoulder tats tend to be more sentimental and possibly mourning the loss of someone or something in their life. These girls are more than likely sensitive and loyal.
Neck tattoo.
This is a tricky one. Much like the over the shoulder tat girls who choose a neck tattoo possibly have gone through some sort of devastation in their lives or are sentimental. However, many girls choosing this placement also love to party so generally it rests upon what her ink is of that makes the difference.
The Wrist Tat.
Once again these are seen more as a fashion trend then of any great importance. Girls who get wrist tattoos are often doing so just to seem cool but without making a major statement some place more noticeable on the body. These tattoos are easily covered up so it is possible your girl is just trying to be bad.
Regardless of where or what a girls or women who opt to ink themselves are often braver than the average woman who won't. Expect a girl that is independent and not easily swayed from her opinion if you choose to date a girl with a tattoo.
Most Recommended