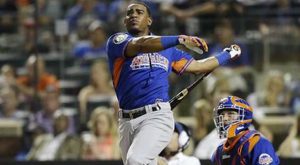 Oakland A's outfielder Yoenis Cespedes became the first player not elected to play in the All-Star game to win the annual Home Run Derby, defeating Bryce Harper 9-8 in the final round to claim the title.
YoenisCespedes got off to a great start in the first round by batting 17 homers. That topped what the second place finisher was able to do in the first two rounds. The 27-year-old from Cuba is in his second season in the majors and currently, is batting only .225 with 15 homers.
The A's slugger finished the night with 32 home runs, the last of which traveled some 455 feet to deep center field. It was the ninth and deciding homer that gave Cespedes the victory over Harper. Cespedes still had five swings remaining.
Harper, the 20-year-old phenom who plays for the Washington Nationals, hit eight home runs in each round. But, he just couldn't match Cespedes.
The Home Run Derby field featured Baltimore's Chris Davis, league leader with 37 home runs and Colorado's Michael Cuddyer. Davis was a favorite but was eliminated in round two. He tied Reggie Jackson's American League record for the most home runs prior to the All-Star break and is on pace to crack 62.
The All-Star festivities that included the Home Run Derby have taken place at Citi Field, the home of the New York Mets. It opened in 2009 and its dimensions made it one of the toughest parks in which to hit home runs. Citi Field has the fewest homers of any stadium in the MLB from 2009 to 2011.
Before last season, a new fence was constructed shaving anywhere from 12 to 16 feet off the original dimensions. Since then, Citi Field has ranked closer to the middle of the pack in home runs.
The 2013 Major League Baseball All-Star game gets underway Tuesday. It's the first time the Mets have hosted the game since 1964, their first season in the old Shea Stadium. The game will be broadcast on Fox.