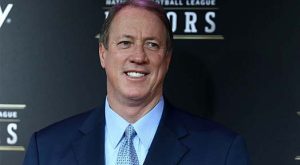 Jim Kelly, who made a name for himself as the quarterback of the Buffalo Bills, is once again battling the oral cancer that he was diagnosed with last summer. Last June, Kelly underwent surgery that was successful in removing the cancer and, as a result, he was declared cancer-free.
It was reported this week, however, that the cancerous cells have returned and the Hall of Famer was scheduled to have another surgery this week. Now, doctors have decided that surgery is not the best option for Kelly.
In a statement that appeared on his wife Jill Kelly's Facebook page, "…surgery is not the best option for Jim. The cancer is in areas that surgery cannot successfully eradicate."
Dr. Peter D. Costantino, who is treating Kelly at New York City's Lenox Hill Hospital, stated that Kelly's condition is very treatable and potentially curable. He was originally scheduled for five to six weeks of chemotherapy following his surgery. It appears now that Kelly will go straight into a regimen of chemotherapy and radiation to attack the cancerous cells.
On March 14 Kelly learned that cancerous cells had returned. Doctors reported that the cancer was very aggressive and beginning to spread. Kelly could still undergo surgery, but not until chemotherapy and radiation treatments have finished.
The news of Kelly's condition and cancellation of surgery comes at a difficult time for Bills fans who just learned of the passing of longtime franchise owner Ralph Wilson, who died Tuesday at the age of 95.
Kelly was a first-round pick in the 1983 NFL Draft. He played two years in the USFL for the Houston Gamblers before moving on to Buffalo where he played for 11 seasons. He was a five-time Pro Bowl selection and is the only QB in NFL history to lead his team to four straight Super Bowls. Although, he never won one, Kelly, the Bills all-time passing leader with 35,467 career yards, received the game's highest honor in 2002. He was enshrined in the Pro Football Hall of Fame.