Defensive Line Workout Program You Should Try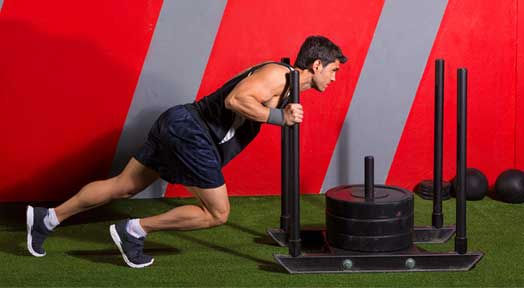 Because we're excited about football season, and because many of the rest of you are too, we wanted to provide a bit of extra insight into some of the most finely tuned athletes on the field – the defensive line. Sure, the offense gets all the glory, because they're usually the ones responsible for scoring, but the defensive players are really the ones in control. After all, you have no chance to beat a team if you can't score on them that's why the defensive Line Workout is so great.
The Defensive Line Workout to push your fitness to the max
What makes defense so challenging to any athlete is the aspect of the unknown. Playing offense, you know what the play is and you've been coached to overcome common defensive scenarios.
But with defense, you not only have to make an educated guess about what the offense will do, but also try to cover running backs and receivers, prevent back-up plans from working, and also make a play on the ball to try and make a defensive score. That requires not just strength and size, a common element of most defensive players) but also tremendous speed and keen reflexes. You can hone your defensive line Workout skills with exercises like these:
-SLED DRILLS:
You don't necessarily need the classic 5-man sled to push across the field. Many gyms are fitted with the prowler push machine which is a free standing piece of equipment that generally has pole where you can add weight plates. Even if you don't have access to this type of equipment you can get similar results pushing a heavy wheelbarrow, flipping a tractor tire (strong-man style), or pulling a pile of bricks stacked on a piece of cardboard or plywood. The objective is to move the target as far as you can with a quick burst of speed. Repeat up to 10 times before taking a brief rest.
-REACTION DRILL:
This is great to try with any workout buddy, even your girlfriend, wife or kids can help. Run in place as fast as you can and when your buddy yells out a direction (left, right, front, back), drop into a pushup position in that direction. Do one pushup and then resume running in place facing the new direction until your partner calls out a new one. Repeat drill at varying time intervals (your partner gets to choose) for up to 10 minutes at a time.
– THE MANIAC:
See just how good of a multi-tasker you truly are. While taking your morning or evening jog, see if you can also do a rapid-fire boxing punch with both arms. Keep it up for 2-3 minutes and then switch to see if you can quickly bring your knees up to waist level one at a time, matching the speed of your arms for another 2-3 minutes. Then return to a normal running gait for 2-3 minutes before pressing into a full-out sprint for 1 minute. Repeat the cycle throughout the distance or timing of your run.
Most Recommended