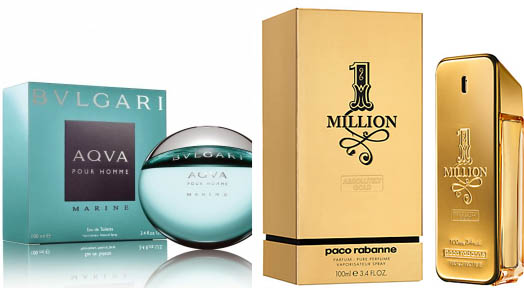 The only thing that's better than looking good is smelling good with the best men's colognes of all time. Whether you are in the market to purchase a gift or want a little something for yourself there are some great scents out there. So this Christmas, here are 12 of the top holiday men's colognes around.
The best men's colognes of all time
1. 1 Million Intense by Paco Rabanne
Since its launch in 2008, it's been a really popular fragrance for Paco Rabanne. Intense is more extravagant with deeper versions of blood orange, saffron, cinnamon and even white leather.
2. L'Homme by Yves Saint Laurent
Even though it's been out since 2006, it's still a favorite of many. It's not overpowering and works any time of year.
3. Aqua pour Homme by Bulgari
This is a limited Edition fragrance that's tough to find but a great daytime deep citrus smell.
4. Eros by Versace
Eros is inspired by Greek mythology and was the name of son of Aphrodite. It's a mixture of fresh woody notes with mint oil, green apple and Italian lemon.
5. Encounter by Calvin Klein
The face of this fragrance is Alexander Skarsgard from True Blood. This fragrance came out in September 2012 and opens with mandarin and cardamom with a core of cognac, jasmine and patchouli.
6. John Varvatos
Created in 2004, this is a great fall fragrance that is loved by many. It's a mixture of fig (leaf and fruit), clary, coriander, cinnamon, pepper, cedar, sandalwood all perfectly mixed together.
7. Polo Blue by Ralph Lauren
This is a day fragrance that is both liked and loved. It starts off cool with melon, mandarin and cucumber and ends with musk, woodsy notes, and suede.
8. Dior Homme
Spicy citrus top notes, lavender, sage, and bergamot, give way to cacao, cardamom, iris, and amber and ends with leather and vertiver.
9. 10 Roam by Odin
This spicy sweet fragrance is a combination of coconut, coffee flower, pepper leaf, saffron and ginger lily, ebony wood, and incense.
10. Made to Measure by Gucci
If you've ever worn a Gucci handmade suit, you'll appreciate the crisp, spicy, exotic smell of Made to Measure.
11. James Bond 007 by Ocean Royale
With the renewed popularity of the franchise and the character, this fragrance is for the men who appreciate 007's killer sophistication. It's a mixture of lime, iris, cedar, and sandalwood which makes it spicy Caribbean Breeze that's perfect for fall.
12. Red by Hugo Boss
When hot, cedarwood and hot amber, meets cold, grapefruit and rhubarb, you get Red. This is Hugo Boss' sweet and fresh contribution to Fall.