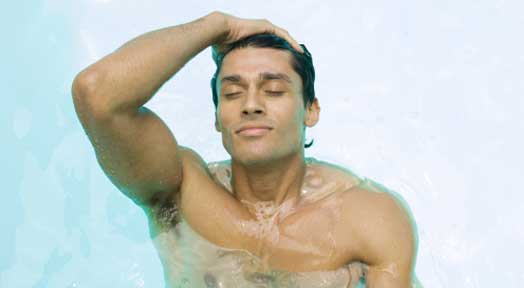 It can be tempting to just reach for extra hold hair care gel or hairspray when the weather gets hot or steamy. But truthfully, all this leaves you with is a shellacked hair helmet that no one finds appealing. All the same, it's not like you can go without some sort of product for you hair care needs... what's a guy to do?
Try styling your hair.
Quit using products labeled as moisturizing or conditioning. These solutions impart moisture to the hair, which is normally a good thing, but does little to help your hair defend against external moisture in the atmosphere or environment. If possible, you'll also want to try styling your hair after it's completely dry, as opposed to starting with wet or damp hair. This helps you avoid locking in moisture with hair-care products used during the styling process. A hair dryer on its lowest heat setting can be useful for use before and after styling.
Find the right hair product
As for products, look for those products that provide hold but resist moisture. Anti-humectant is a key phrase that means it shields hair from humidity. Waxes, pastes, creams, and pomades are all good choices as they are hydrophobic (meaning they don't absorb water). So even if you're hit with a short sun shower, your style should hold up. A little of these products goes a long way though, so if you're just starting out, rub a less-than-dime-sized amount through palms as though applying lotion. Then style hair with fingers as normal. As you need more product, rub your fingers over your palms. You'll likely find you need a lot less product than you thought.
Apply a light hair spray
Hair with a history of bad behavior can benefit from an aerosol-style hairspray applied from a good distance away (usually 12 to 18 inches). Don't over-do it – as this will dampen hair and create hard spots. Instead, look to apply a light mist, almost like a force field that will act as a first line of defense against puff, frizz, and mess. Skip this step if you're the type that combs or brushes your hair often as you will likely remove most of the moisture-blocking ability of the product after the first two or three re-styles. And speaking of re-styles, if you can get away with it skip daily shampooing or try using a dry shampoo every other day. This will allow your hair to become infused with its own natural oils, which are nature's best defense against the elements.