Proper Foot Care a Man's Guide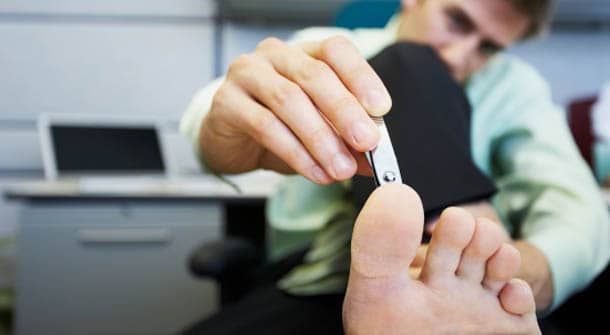 Proper foot care a men's guide. For most men proper foot care usually begins and ends with trimming your toenails every so often, but more than likely your significant other finds your untidy feet a bit gross and is just too polite to say something about it. 5 things every man should do for a proper foot care routine.
Proper foot care a men's guide
Proper foot care can help to avoid foot issues that can prove painful if left to develop or get worse, making normal activities like working out or a game of basketball with the guys uncomfortable. So to help you on your journey to proper foot care, we have put a guide together BELOW
Treat Calluses
Calluses are a normal part of every person's life now and then; they form overtime in areas that are used regularly like the heel and the side of the big toe. If left on their own they can get worse, cracking and bleeding as well as scratching bed partners in close quarters at night. To treat calluses soak you feet in warm water and then use a pumice stone to gently smooth out rough calluses and skin patches. For areas that have calluses that have been developing for a while don't get discouraged if they don't go away on the first try, sometimes it takes a few times to smooth them away.
Clean Under Your Toenails
This is a normal foot care process than many forget to do, but that is very important for having clean healthy feet. Soak your feet in warm water and then pat dry them; then using a nail file, gently dig out any dirt, sediment, etc from underneath nails and around the nailbeds. Rewash your feet when you are done.
Cut Your Toenails
Cutting toenails is an important part of proper foot care, but many people do it wrong. When cutting your nails make sure to leave a small white line at the tops of the nail as cutting too close to the skin can cause nail infections and cuts that can be painful or require medical treatment to go away. Make sure that the cut is rounded out at the sides so that they don't pierce other toes or the skin around the nail.
File Those Suckers
Filing your toenails is just as important as cutting them as it allow the nails to be smooth and tidy looking, keeping jagged edges from catching on socks, clothing, bedding, etc. Use a smooth even stroke in one direction to file down any jagged edges after cutting the nails, making sure to keep a rounded shape to insure there are no issues caused by sharp nail points.
Moisturize Your Feet
After cutting, filing, cleaning and smoothing your feet make sure to moisturize them to keep any your feet from getting too dry and developing cracking, rough patches, etc. Use a generous amount of lotion and massage it into the skin paying special attention to areas that have more problems such as the heels, between the toes and the Achilles tendon.
Most Recommended