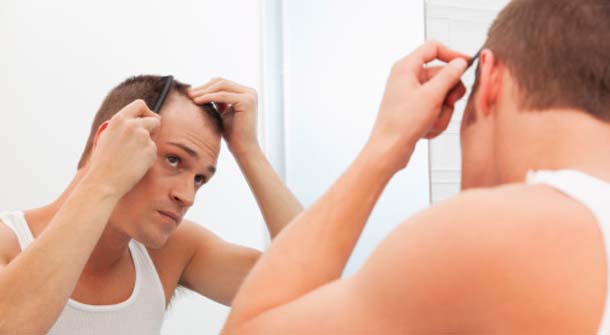 Treatments to nip hair loss in the bud. Having hair loss and going bald is never easy and can have a lasting effect on your confidence in life. For a lot of men going bald or having thinning hair is something that is treatable for regaining a full head of hair once again. There are many treatments available, some good and others… not so much. Take a look at four of the best treatments available to stop hair loss and regain your confidence once more.
Treatments to nip hair loss in the bud
1. Scar-less Hair Transplant
One of the biggest reasons why men forgo hair transplant is the belief that the new hair will look fake or will leave scars on that scalp, but with this method the hair looks natural and leaves no visible scars on the scalp so you can go with a buzz cut if you want to without worry about what it looks like. A skilled doctor will harvest hair follicles from parts of the scalp that are full and graft them on the balding areas with small puncture marks that heal virtually undetected. The cost of a scar-less hair transplant is roughly about $10,000 or more and is the most expensive treatment on this list, but is one of the best options available for men with hair loss.
2. Cell Therapy
This treatment uses platelet rich plasma (PRP) to restore the hair follicles and to get them to begin growing once again. A doctor will take blood samples and separate the contents in a centrifuge to isolate the proteins that aid in growth and apply them to your scalp is initiate hair growth. The process has been used for years in cardiology procedures and is a safe and effective method of regrowing hair. The cost of cell therapy runs about $2000 for a treatment by itself and about $500 combined with a hair transplant to increase effectiveness.
3. Laser Therapy
With the use of laser lights a doctor initiates increased growth of hair follicles on the scalp through protein synthesis. This method of hair loss treatment is best for men who are only just beginning to see the signs of hair loss or are in the mid stages of hair loss. Those with a mostly bald scalp may not see many results as the treatment only increases hair growth rather than restarts the growth process. The cost of laser therapy is about $100 per treatment and you may need it several times or on a continuous basis to see lasting results.