Bad Style Advice Women Give Men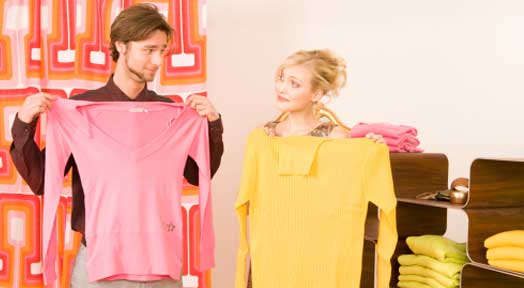 Bad style advice women give men. Women usually have a lot of good style advice advice to give men and things such as relationships, money, family and so forth; they provide that advice whether you want it or not and for the most part men will either listen it or they won't.
Bad style advice women give men
When it comes to style tips you would think that women are the authority on what a man should or should wear since they are largely defined by what they wear, who they're wearing and the trends that are currently in season. However, the simple truth is that when it comes to style advice there are some tips that women give men that are truly bad in less than obvious ways.
Revamp Your Style with "Trendy" Accessories
In today's metrosexual world where men have as much fashion choices available to them as women there are countless men's fashion accessories to choose from and women love to help their men incorporate a few "trendy" accessories into their wardrobes. What seems like an innocuous style tip can go wrong very quickly when she says to accessories your casual outfit with a stylish afghan scarf or a metal adorned leather wristband; all of a sudden you're the jerk who's trying too hard to look cool and you're the one who pays for the bad style tip from women.
Give Your Look a Little Class with Ankle Boots
Those trusty Vans of yours that feature as the main footwear in your wardrobe may seem awesome to you, but to when they're just a pair of too casual sneakers so they tell you to incorporate some semi-dressy ankle boots into your look to take it to the next level. Sadly, most men can't pull this look off and end up with an outfit that looks like it's going two different directions, so stick with your trusty Vans and ignore this bad style tip from a woman.
Let Me Pick Out Your Clothes/Shop for You
What a woman sees as a great look for you and what you see for yourself as 9 times out of 10 completely opposite and this could cost you. By letting her pick out your clothes or shop for you she's more than likely going to choose clothes that are wholly different than your person style; changing your usually wardrobe of Henleys, Jeans, T-shirts and sneakers into slacks, button-up shirts, vests and shiny ankle boots.
Most Recommended