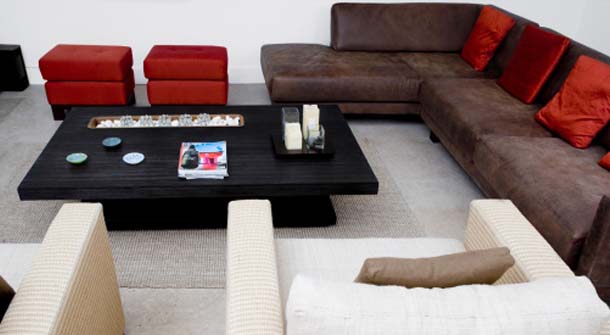 Alright, Bachelor. The ladies really don't want to find scented soap in your bathroom or floral throw pillows on your couch. But they do want to feel welcome when they come over, and they want to know you have some semblance of style and taste. We've got five tips to help you spruce up your bachelor pad and make it thoroughly date-worthy.
1. Keep it clean.
A gal doesn't want you to prove the stereotype that men are hapless slobs who never bother to pick up a broom. She may not mind if you have a couple of dirty dishes in the sink all Bachelor do. But if you have to shove stuff over on the sofa to make space for her to sit down, or your sofa is covered in dog hair, she won't have much of an inclination to stay. Curb your clutter, keep your floor swept and your shelves dusted, and keep your kitchen clean.
2. Choose your furniture and accessories thoughtfully.
Don't throw a bunch of mix-and-match furniture from your friend's old places together, or buy whatever accessories appeal to you without thinking about how they'll go together in the room. Select a color scheme of three or four colors, and stick to it. Choose a style for the room (traditional, funky, eclectic, minimalist) that suits you, and stick with that. If an accessory doesn't fit the room's style or color scheme, it's out. If you're having trouble putting a room together, grab your sister or a female friend and run any ideas you have by them. They'll be able to tell you if you're on the right track. Just don't let them add their own feminine touches—the dates you bring over shouldn't have to question whether you really live alone, and, if they like your place, it's much more satisfying to say that you did it all yourself.
3. Add artwork to your walls.
Artwork makes a room look purposeful and shows that you have taste. Choose pieces that are interesting and eclectic (NO posters, unless they're framed art posters). The best places to find paintings? Small unnamed galleries that showcase local talent. You're bound to find something affordable you like, and you might manage to impress her when you tell her you support the local art scene.
4. Add cozy, "warm" touches wherever you can.
Don't get nervous—this just means throwing a soft cushy rug over a wood or tile floor, adding some comfortable throw pillows to your sofa, and possibly putting a sconce or two up on your wall to add some warm lighting. Choosing warm colors like brown or burgundy, or cool, deep colors like forest green can really cozy up a space.
5. Put away anything juvenile.
Yes, you may have still have a Jedi obsession and be proud of the collection you've amassed, or you may be stoked over your newest X-Box. But she wants to believe she's dating a man, not a boy, and she'd prefer to imagine that you come home after work and have a cocktail as you read the paper than that you spend your free time playing the latest version of Halo. You can let her in on the truth in the future, right after she tells you she has three cats and all of their middle names are Misty.