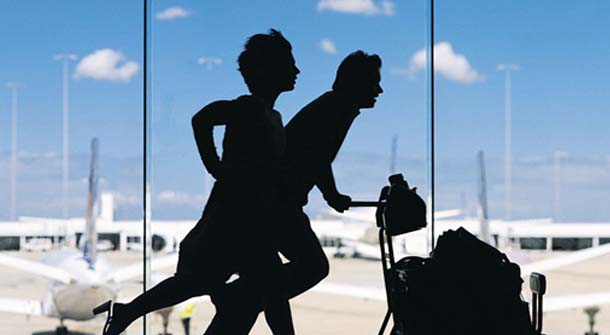 One thing none of us can afford to do is to miss our flight connection. No wonder it's so aggravating to show up an hour to two hours early at the airport, wait around for a flight that's probably going to be delayed, only to miss our connecting flight and have to be rebooked or leave hours worth of layover between connecting flights to be on the safe side, then waiting at baggage claim.
How to exercise and stay fit during your flight connection
The average domestic air traveler spends between 2-4 hours in airport wait time (international flyers can wait as long as 8 hours on average) – all of them, good hours that could be spent at the gym. Thankfully, a few choice airports throughout the country got wise to this idea and started welcoming independent and national fitness brands into their concourses, filling a huge gap in the marketplace. And whether you're looking to blast some calories on the treadmill or get your reps in on your weight training, these are some of our top picks.
O'Hare International, Chicago (ORD) –
Head to the Hilton Hotel located in Terminal 2, between 4:30 am and 10pm most days, and for a $15 day pass, you'll have access to weights, cardio equipment, and indoor pool, sauna and steam room.
Los Angeles International (LAX) –
The Radisson Hotel in the airport offers day passes (reported costs vary between $15 and $30 per day depending on rewards program or other travel club memberships). Excellent, healthful menu available in dining facilities to accent well-balanced weight and cardio training equipment.
McCarran International, Las Vegas (LAS) –
The ever-popular gym brand 24-hour fitness hosts a large location inside McCarran International with cardio workout area complete with big screen TVs, weight training and circuit training, showers, dry sauna, and locker room. Head to Concourse C and take the elevator to the basement (ES) area.
HONORABLE MENTION: San Antonio International, Texas (SAT) –
Just a 10 minute taxi ride from the airport, you'll find the Spectrum Athletic Club. If you're a member at a different Spectrum club, you're welcome to walk right in. If not, consider a guest membership (3-day trial) to check out squash, racquetball, personal training, massage and more.