Miami FL Stay Fit While Vacationing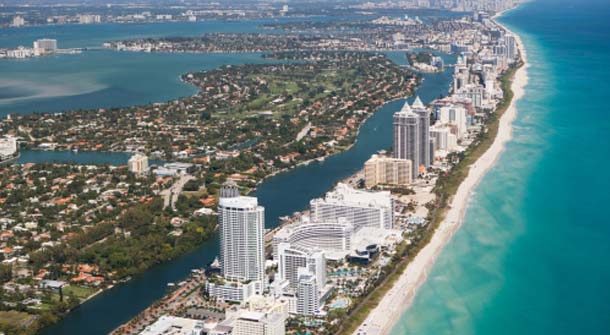 Stay fit while vacationing in Miami. If your new year's resolution was to travel more this year we recommend starting right here in the USA. To put you in the best locations for each season we have our Four Corners for Four Seasons tour we have taken you to San Diego, New York and now we are capping off our tour in the land of the beautiful and fit Miami, Florida . Miami is a place where the sun always seems to shine and where countless activities can be found from one section of the city to another.
Stay fit while vacationing in Miami FL
When it comes to vacationing in Miami staying fit is as easily as ever because the city features so many outdoor athletic activities that vacationers will never lack for options to choose from. To help you stay fit while vacationing in Miami, FL we've put together a list of activities that will help to get your heart pumping and your body moving in entertaining ways as you spend a few relaxing days in the city of Miami.
The Flying Trapeze School.
For the adventurous types visiting Miami, staying fit is a thrilling and death defying endeavor at the beautiful Bayfront Park's outdoor Flying Trapeze School. Pretty much everybody had a moment where running away to join the circus was a childhood dream and with this fun school you're a little bit closer to that unreachable dream. Students can learn all about becoming a trapeze aficionado as they fly from swing to swing or somersaulting through the air, feeling the exhilarating rush of falling, before the safety net catches them. This fun and truly amazing school can offer you detailed flying trapeze classes or simply a Try'n'Fly, where you can simply go for a quick jaunt around the trapeze area with a trained trapeze artist at the helm.
HistoryMiami Walking Tours.
The city is filled with countless borrows that offer various sights and attractions that not everyone gets to see, but with HistoryMiami Walking Tours you can see the special spots around the city with a friendly guide as you walk on foot. HistoryMiami offers a variety of different walking tours to help stay fit such as the "Little Havana Cuisine and Culture Walk", the "Espanola Way Walk" and the "Downtown Art and Architecture Walk."
Adventure Sports Miami.
No visit to Miami would be complete without a day or two on the beach or in the water and with Adventure Sports Miami you can try a variety of water sports activities like kayaking, paddleboarding and kiteboarding. The company offers lessons and classes like Yoga Boarding where you can stay fit with Yoga on a paddle board out on the water or simple rentals if you want to do your own thing like going out kiteboarding with a friend.
Activities And Entertainment.
Don't forget to cap off your vacation with fine dining and nightlife on the infamous Miami Beach. For the best dining this time of year head over to Joe's stone crab where you guessed it they feature fresh Florida Stone Crabs.  With hot weather and hot people there are so many activities and entertainment to keep you busy while vacationing in the magic city. So get out there and experience this great country from corner to corner.
Most Recommended