Jamaica: The Little Less Known Side of Island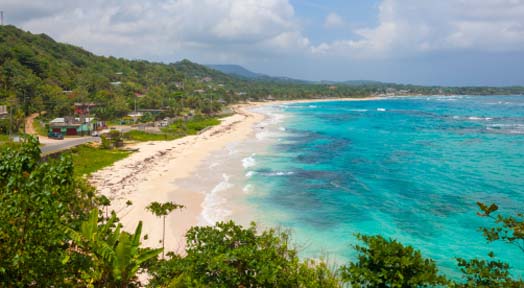 We get it. You're not the Sandals vacation type… not that there's anything wrong with Sandals, but you're ready to experience something new, different and authentic when it comes to Jamaica. Let us be the first to tell you, you're in for a real treat when you head away from the popular tourist spots like Ocho Rios and Montego Bay and instead visit some of the intensely enjoyable sites that have delighted Jamaica's local population for decades.
Discover Jamaica and all of the hidden beauty
YS Falls
Let's start with the natural landscape of Jamaica by heading inland from the beach resort towns. Towards the Jamaican interior is where you'll find YS (pronounced by saying the two letters individually, "y" and "s") Falls – a cascading waterfall with multiple tiers that flow down the sides of southern mountain ranges on the southwest side of the island. Wading pools fed by underground springs, tubing down the river and aerial canopy tours are some of the great adventures that await you here. YS Falls is also considered an eco-tourism attraction by the Jamaican government thanks to its pristine condition and dedication to environmental stewardship. This area on the South Coast also plays host annually to a number of annual international sporting events like Jake's Off-Road Triathlon and the Reggae Marathon.
Blue Mountain
On the opposite side of the island from YS falls is the Blue Mountain ridge that extends east to west near the island's center. Tall and misty with lush green foliage, this is the spot where cherished Blue Mountain Coffee is grown. Butterflies and tropical birds make their homes here, and the hiking is fantastic. At the peak of the ridge (Blue Mountain Peak), at a height of nearly 7500 feet, commanding views of both the northern and southern coasts of the island can be seen.
It is even rumored that on clear days the outline of Cuba can be seen on the horizon. At the foothills of these mountains a short distance away on the northeast coast is the incomparable Blue Lagoon – a small bay surrounded by hills and known for its stunningly turquoise waters, untouched coral reefs for diving and snorkeling, and powder-soft white sands. For an extra special encounter with this area, stay at one of the waterfront villas or the equally charming tree-house accommodations.
Blue Lagoon – Boston Beach
Now that you've explored the truly beautiful natural wonders of Jamaica, you're ready to get up close and person with local life, culture and entertainment. Head south and east along the coastline from Blue Lagoon (in Port Antonio) and make your way to Boston Bay Beach – home of the undisputed best Jerk cuisine found anywhere on Earth. Situated alongside a coastal inlet where there's some surprisingly good surf (a Caribbean rarity), the jerk shacks all through town are the perfect accent to the easy, breezy carefree atmosphere of the town.
Just walk up to any of the huts with names like Miss Ivy's, Shaggy's, Glasses, Little David's and Mickey's and order whatever seems to be the specialty of the house. You'll get a plate or wrapped foil or brown paper filled with juicy, spicy chicken, pork or fish, and "festivals" which are little hush-puppies perfect for soaking up extra sauce. And, as you might imagine, nothing compliments this meal better than a Red Stripe Beer – the local Jamaican brew known for its short-neck bottle and sweet, oat-like taste.
Hellshire Beach
Heading back towards the capital, Kingston, on the south coast, make a stop at Portmore and Hellshire Beach. This lively locals beach is always bustling with people, music, beach games and fun in the waves. But the fish-shacks are what you'll want to make sure to sample over and over again. From snapper to lobster and everything in between; fried, stewed, steamed or grilled; it just doesn't get any fresher than this. Pepper shrimp is a great delicacy, spicy and sweet with that delightful soft texture of fresh-caught shrimp. There's also fresh pineapple with a dash of salt (trust us, it's good) and coconut jelly for dessert. Stick around for Sundays when the big impromptu beach party goes down and the friendly locals really party island style.
Strawberry Hill
And when you're ready to unwind from it all – head back into the mountains overlooking Kingston and escape to the tranquil beauty of Strawberry Hill and its signature Hotel and Spa. An infinity-edge pool overlooks downtown Kingston, with charming private cottages and villages dotting the resort grounds. Romantic and relaxing, Strawberry Hill offers fine dining at the Bamboo Room and the adjoining Library Veranda, yoga classes, meditation sessions, and a full-service Aveda spa offering facials, massages and a variety of botanic treatments designed to complete your full immersion in all things Jamaican.
Most Recommended