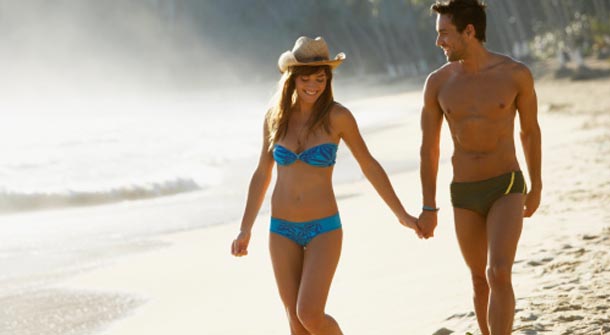 Despite some unexpected chilly weather last month, most signs point to summer being just around the corner. That means more shorts, tank tops, or even going shirtless as beach and pool days become regular events. So are you going to be ready to go bare and soak up the sun? By now, you probably know I'm a big believer in loving your body regardless of whether or not you look like the Men's Health cover model. But if you want to show off the rewards of treating your body well, here are a few quick tips to help you get beach body ready and make you feel stronger and more comfortable in your own skin.
Tip #1
stop staring at the scale. Like age, weight is (mostly) just a number. Focus instead on measurements like body fat ratio (a number of bathroom scales will measure this) or, even better your BMI or waist/hip ratio. These measurements take into consideration things like the size of your frame and muscle – both of which could make you think you're heavy if all you look at is the scale.
Tip #2
do something every day. You don't have to devote yourself to the gym if you just make a commitment to yourself to do some fitness activity each and every day. It can be a light 30-minute run, some weight training in the gym, a yoga session, a vigorous bike ride, or a challenging TV workout like Insanity or P90X. If you make exercise a daily part of life, you'll likely notice yourself slimmer, stronger, and more confident.
Tip #3
make healthy food choices. Every once in a while take a moment to think about what you're eating before you put it in your mouth. Sure, that double cheeseburger with bacon looks good, but wouldn't a single turkey burger with onions and mushrooms taste pretty good too? And you don't have to feel as guilty about it at the next pool party. So just think before you chew!
Enjoy the journey and your time in the sun this summer.