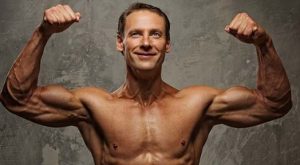 By the time you reach your 50's, most men realize they are out of shape and can't workout the way they used to back in their 20's. Back in the day maybe you were a marathon runner and were 30 pounds lighter, however now you are dealing with the effects of years gone by. Well if you are ready to hit the gym or track and get back into shape try this over 50 workout to help you along your way.
An important tip
Before starting any workout program at this age, you should first of all get a physical with your doctor. Men over 50 years may have increased health risks, especially if you are a smoker, overweight or sedentary, or if you have a heart disease, blood pressure is high or high cholesterol level.
What you'll need
To start this workout program, first go and get a jump rope, bicycle, a few sets of dumbbells you can choose two sets around the weight you like to lift or you can also get the adjustable variations that are great space savers, boxing timer they use to count rounds and an abdominal wheel.
The over 50 workout program
To warm yourself up, take a 5-minute cycle ride, come back and jump rope for another 5 minutes. The workout program has been divided into 6 rounds, each round should be 2 minutes and should have 30 seconds in between to rest.
• Round 1: Do as many push-ups as possible within the allotted 2 minutes.
• Round 2: Switch to jumping rope starting at a slow pace. Your shoulder may start hurting, however this round will make your muscles get rid of the built up lactic acid. Your lungs may also hurt, but you can carry on, unless the pain is intolerable.
• Round 3: This round involves jumping rope with more intensity.
• Round 4: Get down and do one round of ab wheel exercise. This will make your core stronger. You will stretch out your arms torso and upper legs, and build your shoulders and back well. Once you become good at it, you can try the complete ab wheel exercise starting from the standing position, called as "super extension roll." Use your core and maintain alignment in order to avoid any pain.
• Round 5: Use the dumbbells to do a standing overhead dumbbell press. This will work your shoulders and bring back some of that burn so pace yourself.
• Round 6: Grab your jump rope once again and do a 2 minute intense jumping.
Initially, these rounds will be 2 minutes each. But gradually, you can increase them to 5 minutes each, repeating 3-4 days per week.
Gaining your shape back is no easy feat after 50. But this workout program will help you in regaining your health, shape and self-esteem dramatically.