Attack at Boston Marathon Still Leaves Questions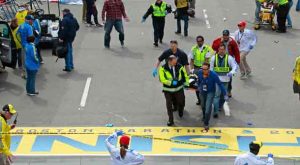 In the aftermath of two explosions near the finish line at the 117th running of the Boston Marathon, there is still much to be learned about who pulled off the attacks. Questions linger as three people, including an eight-year-old boy, are confirmed dead and at least 176 injured.
At 2:50 p.m. Eastern Time, the first of two explosions just seconds apart shocked runners and spectators at the finish line of the annual race. Officials have found evidence that the bombs were made out of 1.6-gallon pressure cookers. The pressure cookers were packed with explosives and shards of metal, nails, and ball bearings. The bombs were then stuffed into duffel bags and left on the ground to detonate.
The FBI Agent-in-Charge in Boston, Richard DesLauriers, confirmed that pieces of black nylon were found as well as fragments of metal, nails, and ball bearings. DesLauriers said the items were sent to the FBI laboratory in Quantico, VA, for further investigation. The FBI has several leads and has a lot work to do in determining the person or persons responsible. The Pakistani Taliban, which has threatened to attack the United States because of its support for the Pakistani government, denied any involvement in the bombings.
The bombings at Monday's marathon killed eight-year-old Martin Richard, of Boston, and 29-year-old Krystle Campbell, of Medford. The third victim was identified as Lu Lingzi, a graduate student at Boston University. Several of the victims remain in hospitals in the Boston area, including the Boston Medical Center where 17 people remain in critical condition.
DesLauriers has stated the "someone knows who did this" but as of early Wednesday no one or group has claimed responsibility for the attack. Officials are trying to determine if the bombs were assembled close to their detonation points. Federal agents are working closely with local law enforcement officials searching for clues as to where the bombs could have been constructed.
Most Recommended