A Big Payday for Kobe Bryant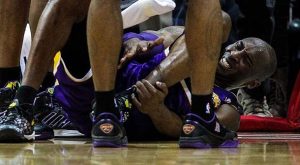 Los Angeles Lakers star Kobe Bryant received the kind of payday that only lottery winners experience on Friday when he received a portion of his 2013-14 salary. The portion was just $24 million!
Bryant, who is in the last year of his current contract, is set to make $30.5 million for the year. Most players will opt for being paid every two weeks, while some are paid twice a month. There are a few players around the league that receive lump-sum payments. Bryant is one of them.
The NBA's new collective bargaining agreement only allows players to receive up to 25 percent of their salary in advance of the season as a lump sum payment. Bryant's contract was negotiated prior to the new CBA and, as a result, is grandfathered under the old agreement. The terms of that agreement allow for a player to receive up to 80 percent of their gross salary in advance of a season.
Kobe Bryant got a big payday lump sum payment on Friday was for $24,363,044, which is 79.7 percent of his salary this season. It is also more than any other player in the NBA will make this season. And, Bryant has still not entered the Lakers' lineup while he continues to recover from last year's Achilles injury.
Bryant's expected return is sometime in December, but the Lakers, and Bryant, will not push it. Regardless, his contract is guaranteed, meaning he receives his paycheck whether he plays or not.
The hefty payday will be subject to heavy taxation and Bryant will likely net about half of the one-time payment. After federal income taxes at the 39.6 percent bracket and California's state income tax, Bryant will net roughly $11 million.
As eye-popping as Bryant's salary is this season, it is not the highest in NBA history. That honor belongs to Michael Jordan, who received $33.1 million for the 1997-98 season. After Bryant, the next highest paid player in the league this season is Dallas Mavericks forward Dirk Nowitzki ($22.7 million). Amar'e Stoudemire of the New York Knicks ($21.7 million), Joe Johnson of the Brooklyn Nets ($21.5 million), and the Knicks Carmelo Anthony ($21.4 million) represent the top-five highest paid NBA players this year.
Most Recommended