Busy Day In NFL Free Agency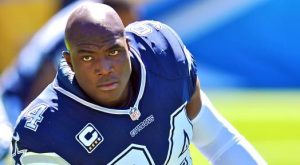 Day two of NFL free agency proved to be a busy one with several key moves around the league including the signing of DeMarcus Ware by the Denver Broncos. Ware who was released on Tuesday by the Cowboys, with whom he had spent his entire nine-year career, reportedly signed a new three-year contract with Denver.
The addition of Ware means that he will be paired with outside linebacker Von Miller to create one of the most dangerous pass-rushing combinations in the league. Ware was the all-time leader in sacks in Dallas with 117. He had his career-low last season with six as the Cowboys switched from a 3-4 to a 4-3 defense. Denver also signed corners Aqib Talib and T.J. Ward on Tuesday.
While Denver added Ware, they lost one of their most productive wide receivers in Eric Decker. The 6-foot-3-inch, 214-pound Decker inked a new deal with the New York Jets. He will give young second-year QB Geno Smith a solid No. 1 wide receiver. Decker, who played collegiately at Minnesota, had the best year of his career last year with 87 receptions for 1,288 yards and 11 touchdowns.
After being released by Tampa Bay, cornerback Darrelle Revis signed a one-year, $12 million contract with the New England Patriots. With the new deal, Revis will become the highest paid corner in the league and gives the Pats the replacement they need for Talib. Revis was set to make $16 million in Tampa, but the Buccaneers decided that was a little too much. The move also saved them a $1.5 million roster bonus.
The free agent market will continue to be busy. Some big names are on, or will soon be, on the list including Carolina wide receiver Steve Smith. The Panthers have been trying to trade the longtime veteran but haven't found any takers. It doesn't appear that Carolina will ask Smith to re-work his $7 million contract either.
Dallas WR Miles Austin will be cut and Seattle DE Chris Clemons was released by Seattle. The Cowboys save about $5.5 million and the Seahawks roughly $7.5, which both teams can use to help sign its 2014 draft picks.
Most Recommended