Calvin Johnson Grabs 329 Yards In Lions' Win Highlight of NFL Sunday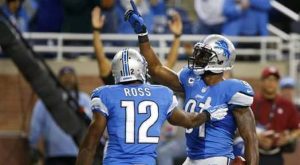 Calvin Johnson set his own personal best, second all-time in NFL history, with 14 receptions for 329 yards and one touchdown as the Detroit Lions came back in dramatic fashion to beat the Dallas Cowboys, 31-30.
A 13-7 game at the end of the third quarter, both offenses erupted and it was Detroit QB Matthew Stafford who got the last laugh when he led the Lions 80 yards in the final 1:02 of play, capped by his own 1-yard run for the winning touchdown.
Detroit had fallen behind 27-17 with just 6:45 to play when Dez Bryant caught a Tony Romo pass at the Detroit 32-yard line, broke a tackle, and scored on the 50-yard pass play.
But the Lions, who somehow managed to overcome four turnovers, responded with an 80-yard drive capped by Reggie Bush's 1-yard run at the 3:33 mark of the fourth quarter. Dallas responded with a Dan Bailey 44-yard field goal with 1:02 to play. The key play was a holding penalty on the Cowboys third-down attempt. The Lions declined the penalty but the costly mistake stopped the clock and saved valuable time for Detroit on their final drive.
Johnson's 329 receiving yards are second in NFL history to Flipper Anderson, who had 336 yards for the then-Los Angeles Rams in a game against New Orleans in 1989. Johnson's feat is also remarkable considering Anderson's game went to overtime. Astonishingly, there are 16 teams in the league that have not thrown for at least 329 yards in a game this season.
Stafford finished the day 33-of-48 for 488 yards and a touchdown. Bush rushed for 92 yards on 21 carries. Romo failed to complete at least half of his passes (14-of-30) for the first time in four seasons.
Elsewhere around the NFL, the Kansas City Chiefs remained unbeaten holding off Cleveland, 23-17. New Orleans moved to 6-1 with a 35-17 win over Buffalo while the New York Giants won their second consecutive game, a 15-7 victory over Philadelphia, after starting the season 0-6.
Most Recommended