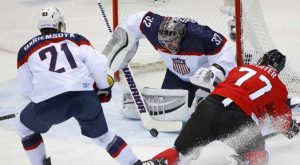 It was a Olympic hockey rematch of the 2010 Vancouver Olympics gold medal final, won by Canada on a goal by Sidney Crosby. Although this one didn't need overtime and wasn't for a gold, Canada once again found a way to defeat its neighbors to the south and advanced to Sunday's final against Sweden with a 1-0 win over Team USA.
Jamie Benn deflected a pass from Jay Bouwmeester just 1:41 into the second period and that was all Canada needed to advance to the gold medal game for the third time in the last four Winter Olympic Games. The Canadians poured it on Team USA managing 16 shots in the first 20 minutes. Luckily, U.S. goalie Jonathan Quick was superb in goal. Quick ended the day with 36 saves and was the only reason that the Americans remained in the game.
Canada's defensive play was, once again, phenomenal. The defending Olympic champions, who had only given up three goals in five games coming into Friday's match-up, shut down Team USA and held them scoreless. The Americans had scored 20 goals in their five games prior to Friday.
Canadian goaltender Carey Price stopped all 31 shots that he faced. The Americans managed shots but never were in position for second chances. They went 0-for-3 on their power plays and never really mounted a serious offensive threat.
For the U.S., they will now face Finland on Saturday night for the bronze medal. It has been 34 years since their last gold medal, the well-known Miracle on Ice back in 1980. Team Canada has had the U.S.'s number winning for the fourth time since 1998 when NHL players started to play in the Olympic Games.
The gold medal game will take place on Sunday and will be the final event of the Sochi Olympics. Sweden, which won the gold back in 2006, advanced to the gold medal final with a 2-1 win over Finland.