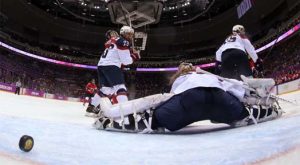 With a 2-0 lead and just under four minutes to play in the Sochi Olympics U.S. women's hockey gold medal game, it appeared the United States would finally break their rival Canada's streak. Two goals later, the two teams were in overtime when Marie-Philip Poulin found the net to give the Canadians the most improbable of comebacks in Olympic history. The 3-2 victory gave Canada its fourth consecutive Olympic gold medal.
Poulin scored the game-tying goal in regulation with just 54.6 seconds remaining. It came less than three minutes after Brianne Jenner finally put Team Canada on the scoreboard. Jenner's goal at the 16:34 mark of the third period cut the U.S. lead to 2-1.
After a scoreless first period, Meghan Duggan finally found the net to give Team USA the early lead. The Americans skated a great second period, killing off three penalties. Things got even better in the third when Alex Carpenter converted a power-play assisted by Hilary Knight and Kelli Stack at the 2:01 mark.
Team USA was in control until Jenner's goal put the Canadians back in the game. Team Canada has now won 20 straight games in the Olympics. Their last loss was to the U.S. in the 1998 gold medal game in Nagano. That was the only time that the Americans won gold.
Canadian goalie Shannon Szabados stopped 27 shots but it wasn't her that stopped the shot that kept them in the game. Szabados skated off to give Team Canada an extra attacker in the final two minutes. As Canada pressured the U.S., Stack got a hold of the puck and cleared it the length of the ice. The puck was headed towards the net when it hit the post and glanced away. Just 30 seconds later, Poulin struck with her first goal and sent the game to the extra session.
U.S. goaltender Jesse Vetter recorded 28 saves and controlled the game for over 56 minutes. The Americans had beaten Canada in four straight games leading up to the Olympic tournament. In a rare preliminary round match-up, Canada beat the U.S. by an identical 3-2 score.
Switzerland defeated Sweden 4-3 in the bronze medal game. Swiss goalie Florence Schelling recorded 253 saves in the team's six games and won the tournament's Most Valuable Player.