Sochi Winter Olympics US Men Sweep Slopestyle Ski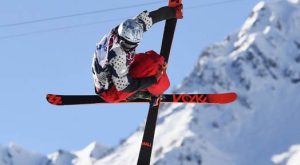 After Shaun White's disappointing performance at Rosa Khutor Extreme Park, it was up to the U.S. men's slopestyle ski team to make amends at the Sochi Winter Olympics. They did. Convincingly.
Teammates Joss Christensen, Gus Kenworthy, and Nick Goepper swept the top three places in the event and dominated the field. Christensen flashed greatness wowing the crowd with a variety of moves, twists, and turns. He scored 95.80 on his first run and then followed it with the exact same score on his second run after he had the gold medal in the bag. He had the top two performances of the day and all of his runs, including those in qualifying, all scored in the 90s.
Goepper entered the event as the favorite to win the gold and performed admirably, just not as sharp as Christensen. He scored 92.40 on his first run and couldn't beat it on his second after having some difficulty with the second rail feature. He would end up the bronze medal as teammate Gus Kenworthy scored 92.40 on his second and final run to claim the silver.
The sweep marked just the third time in U.S. Winter Olympic history that it has happened. The U.S. swept the men's halfpipe in 2002 and won all three medals at the 1956 Olympics in men's figure skating. The victories also gave the Americans five medals within 15 hours. Snowboarders Kaitlyn Farrington and Kelly Clark won the gold and the bronze in the women's halfpipe.
Christensen was lucky to even make the American team. He was the last skier selected, picked over former world champion Tom Wallisch. All four members of the U.S. slopestyle team qualified for the finals. Bobby Brown, the fourth member of the team, wound up ninth.
Freestyle skiing continues tomorrow with the Women's Aerials qualifications in the morning and the finals in the afternoon. Sochi Winter Olympics
Most Recommended