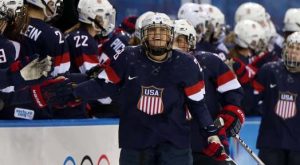 The U.S. women's Olympic hockey team advanced to the gold medal game, where they will take on rival Canada, after defeating Sweden 6-1 on Monday. The American women dominated the Swedes from the start to the finish.
Kacey Bellamy and Alex Carpenter scored just a little over a minute apart in the first period as Team USA built a 3-0 first period lead. Amanda Kessel scored the other goal for the Americans in the opening period.
Brianna Decker and Megan Bozek each scored a goal and had two assists for Team USA, which unleashed a barrage of shots against the Swedish goaltenders. The Americans had 70 shots on goal, tied for third most ever in Olympic competition. The U.S. holds the record for most shots in a game, 91 in a game against Japan in the 1998 games in Nagano.
Valentina Wallner stopped 42 shots for Sweden but was pulled after allowing five goals. She was replaced by veteran Kim Martin Hasson, who has played in all five Olympic games where women's hockey was played. She stopped 22 of the 23 shots that she faced.
U.S. goalie Jesse Vetter was about seven minutes from recording a shutout when she allowed a goal by Anna Borgqvist. Vetter stopped the other eight shots that she faced.
Team USA will face Canada again for the gold medal. The Americans have squared off with Canada three previous times. They met in the first Olympics that women's hockey was played, in Nagano in 1998. The U.S. won that year but claimed the silver in 2002 in Salt Lake City and in 2010 in Vancouver.
The two teams faced each other last week. Canada defeated the U.S. 3-2. The Canadians defeated Switzerland 3-1 in the other semifinal played on Monday. Canada has played for every gold medal since 1998 and has not lost to the Americans in Olympic play since that final in '98.
The gold medal game gets underway at 12:00 p.m. Eastern Time on Thursday, Feb. 20.