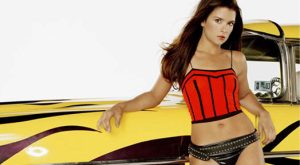 Sunday in Daytona, Florida, history will be made as Danica Patrick will begin the race from the pole position. It is the first time in NASCAR circuit history that a woman will begin from the pole.
Danica Patrick, a Renegade Woman, always Pushes the Bar
Patrick is not new to firsts having made history before in both Indy car racing and in Japan. She has always seen herself as just a driver, not a female driver , and is quick to credit her teams and the people around her for her success.
"I was brought up to be the fastest driver, not the fastest girl," Patrick said. "I feel like I've been lucky in my career to be with good teams and have good people around me…"
Early Racing Years
In the Daytona qualifying sessions, Patrick was eighth and clocked an astounding 196.434 mph lap. She then watched and waited for over two hours as 37 other drivers attempted to take the pole away from her. It didn't happen as only four-time NASCAR Cup champion Jeff Gordon came close. Gordon was the only other driver to have a qualifying lap over 196 mph. Patrick's top speed on her qualifying lap was the fastest since 1990.
Modeling and Media Magnet
The GoDaddy.com spokesperson was the first woman to ever lead laps at the Indianapolis 500 and the only woman in the history of racing to win an IndyCar race winning in Japan in 2008.
While securing the pole position is a big deal, it hardly guarantees a win at Daytona International Speedway on Sunday. Las Vegas odds makers give her 40-1 odds to win the race. She finished 38th a year ago in her Daytona debut.
The previous high for a female in qualifying in a Cup race was Janet Guthrie back in 1977. That year, Guthrie started ninth at both Bristol and Talladega.