Detroit Tigers Await NLCS Winner SF Giants After Dominating Yankees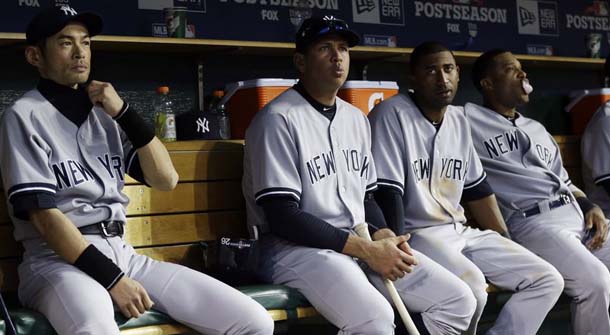 As the San Francisco Giants faced the St. Louis Cardinals in Game 7 of the National League Champion Series last night, the Detroit Tigers waited patiently in the wings. The Detroit Tigers are coming off the heels of a dominant four game sweep of the New York Yankees last week in a series where the Yankees' bats were just about non-existent.
No one could've prepared for what transpired in the Yankees-Tigers series, not even the Tigers. All season the Yankees were one of the league's most consistent teams. Sure, they had their share of injuries throughout. However, they always managed to come out on top.
Losing captain Derek Jeter in the ALCS was a huge blow to the team's psyche. Their legendary aura seemed to completely dissipate after Jeter went down due to injury. And despite the fact that big bats such as Robinson Cano and Curtis Granderson couldn't get it going all series, it was Alex Rodriguez who bore the brunt from the media.
During this year's postseason, Rodriguez batted a paltry .120, 0 HRs, 0 RBIs, 12 Strikeouts. The criticism was obviously warranted considering he still remains one of baseball's highest paid players at $30 million per season.
It certainly didn't help that the Tigers' pitching staff, led by ace Justin Verlander, have been one of the hottest pitching staffs all season long.
Detroit's lineup of sluggers aren't too shabby either. The fact that they have baseball's premier slugger Miguel Cabrera should be enough to send shivers down a team's spine. In 2012 Cabrera notched the first Triple Crown in 45 years and with the feat leads the pack as the AL's prospective MVP.
2012 just wasn't meant to be for the Yankees. Perhaps it will be the year the Tigers reign as World Series Champions once again. Or perhaps it will be the year the Giants add another championship trophy to their storied collections. We shall soon find out.
Most Recommended