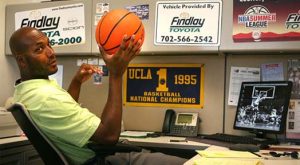 The class action lawsuit started by former UCLA basketball player Ed O'Bannon has been partially certified by a federal judge. The Ed O'Bannon lawsuit will allow him and the group of 20-plus current and former college athletes to challenge the NCAA regarding its business practices. The judge decided not to allow the group to seek damages past the values of their athletic scholarships, however.
The decision will undoubtedly lead to a change in the economics of college athletics and possibly lead to some form of compensation for college athletes, who help bring millions of dollars to their respective schools.
Both sides, the NCAA and the players, view the decision as a victory. Donald Remy, the chief counsel for the NCAA, stated that the plaintiffs have always been wrong about the facts and the law regarding student-athletes. Remy says that this ruling helps give the NCAA validation.
The players, on the other hand, realize that the certification of the lawsuit means that the NCAA can no longer continue its current practices in regards to student-athletes and the billions of dollars that it receives in revenues.
The decision, handed down by federal court judge Claudia Wilken, does seem to favor the players. College athletes will now be able to proclaim their rights as contributing to the business of college athletics. In the current economic model, that is not possible. This ruling will fundamentally change college sports similar to the way that free agency changed baseball when it began in the late 1960s.
With the decision, players will have to wait until their college playing career is over before collecting on any media revenue generated and not shared. Wilken's ruling most likely will survive an appeal since it only addresses future NCAA revenues. As a result, it is believed that the NCAA will most likely settle with the plaintiffs rather than go to trial. Should the case go to trial, the NCAA could be forced to pay even more in damages to the class action group.