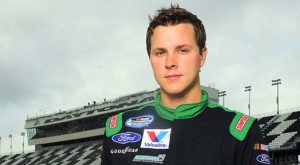 Trevor Bayne, the 2011 winner of the Daytona 500, revealed this week that he has received a diagnosis of multiple sclerosis. Bayne has stated that he does not expect the disease to affect his racing career.
With his win at the Daytona 500 in 2011, Bayne became the youngest winner in the history of the famed race. That same racing season, Bayne missed five races while being hospitalized at the Mayo Clinic. He had become ill and doctors called it an "inflammatory condition" that kept the young star out of action for two months.
The illness was originally thought to be related to an insect bite that Bayne had suffered that year. After a race at the Texas Motor Speedway, he complained of numbness in his arms when driving and thought his condition was related to the bite. A few weeks later, he entered the Mayo Clinic where doctors ran tests to rule out Lyme disease.
Multiple sclerosis runs in the Bayne family. Sister, Sarah, has also been diagnosed with the disease which can be debilitating. The body's immune system will attack the central nervous system and cause symptoms like fatigue, blurry vision, and more. Some symptoms are more severe like paralysis. There is no cure for the disease, however, there are treatments that can help slow the progression of multiple sclerosis.
Bayne, just 22 years old, will continue driving full-time for Roush-Fenway Racing next season in the Nationwide Racing Series. He'll be at the helm of the No. 6 Ford Mustang. He will also race part-time for Wood Brothers in the Cup series where he has posted three top 10 starts out of 45 attempts. In this year's Nationwide Series, Bayne has one win, at the Iowa Speedway, and is currently ranked No. 6 in the overall points standings.
Bayne is not the first driver in a NASCAR national series to be diagnosed with MS. Camping World Truck Series driver Kelly Sutton, who learned she had the disease as a teenager, started 54 races between 2003 and 2007.