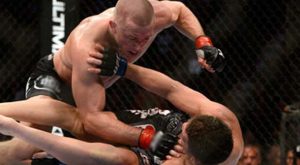 One of mixed martial arts' most celebrated fighters, Georges St-Pierre, defended his UFC welterweight title for the eighth consecutive time by out-pointing Nick Diaz, a former Strikeforce champion at the Bell Centre in Montreal.
The Canadian St-Pierre won by unanimous scores of 50-45. He now ranks second all-time in UFC title defenses behind middleweight champion Anderson Silva, who has 10.
Diaz and St-Pierre had been battling back and forth in the press with Diaz accusing St-Pierre of steroid abuse earlier in the week. St-Pierre wanted nothing to do Diaz's striking game and, like he has done many times before, worked his wrestling game to perfection.
Diaz is known in throughout MMA as a great puncher and likes to throw them in bunches. St-Pierre countered that by taking down Diaz nine times throughout the fight, the first of which occurred just 10 seconds into the bout. The strategy for St-Pierre was to stay out of a boxing range with Diaz, keep him in a kickboxing range and then apply his wrestling.
The strategy paid off as St-Pierre landed 105 significant strikes compared to just 41 by Diaz. St-Pierre had the nine takedowns and Diaz, not the greatest ground fighter, never even attempted a takedown. Diaz's only success was with the straight left and, in the fourth round, Diaz connected with one that opened a cut above St-Pierre's left eye.
St-Pierre, now 26-2 all-time, has several options available for his next title defense. One of the most likely is Johny Hendricks (15-1) who defeated Carlos Condit as part of the UFC 158 co-main event. Ironically, it was Condit who defeated Diaz in February of 2012 after which Diaz briefly retired from the sport. This was Diaz's first fight in a year. "I don't want to make excuses but I think I might have been flat from a year off," Diaz said. Look for the 29-year-old to retire for good from the sport after losing his last two fights.