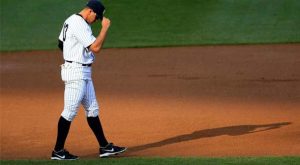 The Alex Rodriguez saga continues in New York, but the big question is, "Is A-Rod done in New York?"
The 12-time All-Star has yet to play for the Yankees this season. Rodriguez underwent hip surgery in January to repair a torn labrum. He was scheduled to rehab the hip and return to the Yankees after the All-Star break.
It appeared that plan was going to work as A-Rod began a rehab assignment with the Yankees' Class A Low affiliate, the Charleston RiverDogs, on July 2. He continued the rehab with an appearance for the Triple A Scranton/Wilkes-Barre RailRiders on July 18. But, Rodriguez suffered a quadriceps strain, and his July 22 return to New York had to be delayed a little longer.
While A-Rod now appears to be healthy, the quad strain has healed, he has encountered an even bigger problem – his connection to Biogenesis. The now-defunct company reportedly dished out performance-enhancing drugs to a number of major league players, including recently suspended Ryan Braun. The Milwaukee Brewers outfielder and former NL MVP, was suspended by MLB for 50 games.
It looked as if Rodriguez would be suspended as well, since he was one of the dozen or so players to have been linked to Biogenesis. Now, that may not happen.
The Yankees will have the third baseman start another rehab assignment on August 1, a five-day stint that could put Rodriguez back in the Yankees' lineup by August 6 against the Chicago White Sox.
As a precaution, Yankees GM Brian Cashman went out and acquired former Yankee Alfonso Soriano from the Chicago Cubs. Soriano is batting .254 with 17 home runs and 51 RBI. If the A-Rod situation doesn't work out, New York at least has a seven-time All-Star and former MLB All-Star Game MVP to turn to.
New York will not be able to get out of Rodriguez's current contract, a 10-year, $275 million deal, unless he is suspended by the league. At 38 years of age and with a repaired hip, the slugger may not be that marketable in a trade scenario either. With the big contract, the Yankees most likely would not just release him either, and don't expect A-Rod to retire.
For now, it appears that Alex Rodriguez isn't going anywhere and will be in New York as long as he can still swing a bat.