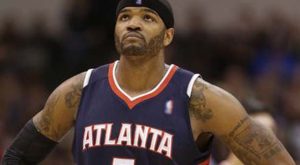 Oklahoma City's Kevin Durant poured in 41 points, including a beautiful pull-up jumper with 1.5 seconds to play, as the Thunder defeated the Atlanta Hawks 111-109 on Monday night. It was the 11th straight game in which Durant scored at least 30 points.
The Thunder led early but fell behind by 14 points in the second half. It was not until a 16-foot jumper by Durant with just 25.5 seconds left in the game that Oklahoma City took another lead. The Hawks Paul Millsap, who scored 23 points to lead Atlanta, answered quickly to tie the game at 109-109. Durant then hit the game-winner just seconds later.
The Western Conference's leading vote-getter for the upcoming NBA All-Star game, Durant now has the longest streak of 30-point games since Tracy McGrady's 14 straight for Orlando back in the 2002-03 season. Durant is averaging 36.9 points in January and now has six 40-point games this season. No other player in the league has more than two.
Durant added five assists, four rebounds, three blocks, and two steals. He shot 15-of-25 from the floor, including 5-of-7 from three-point range. Teammate Reggie Jackson added 18 points and Jeremy Lamb scored 14 off the bench.
For the Hawks, reserve forward Mike Scott had 16 points and six rebounds, while DeMarre Carroll and Shelvin Mack added 15 points each. The two teams shot well, the Thunder hitting 52 percent from the field and Atlanta 49.
Oklahoma City has now won eight straight and sits atop the Western Conference at 36-10. They are two games ahead of San Antonio. The game NBA fans have been looking forward to for some time will take place Wednesday as the Thunder travel to Miami to take on LeBron James and the Heat. The Thunder finishes the month on Friday at Brooklyn. Durant needs just 39 points to make January the highest scoring month of his career.