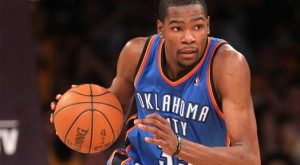 For the 12th game in a row, Kevin Durant has scored 30 or more points as the Oklahoma City Thunder defeated the Big Three and the Miami Heat 112-95. It was the eighth consecutive victory for the Thunder, who are now 37-10 and move them on top of the Western Conference with a 3½ game lead over San Antonio.
Early on, it appeared the game would be a rout in favor of the Heat. Miami jumped out to a 22-4 lead in the first quarter. Oklahoma City, though, had other ideas. The Thunder regrouped and outscored Miami by 43 points over the next 33 minutes.
Durant scored 33 points, grabbed seven rebounds, and had five assists. His streak of 30-point games is now 12, two shy of Tracy McGrady's 14 that he did back in the 2002-03 season. Serge Ibaka added 22 points and the tandem of Derek Fisher and Jeremy Lamb shot 9-of-11 from three-point range and scored a combined 33 points. Fisher hit all five of his three-pointers and had 15 points.
The three-point shooting was a big factor in the Thunder victory as OKC shot 16-for-27 from behind the arc, while the Heat shot just 3-of-19. Durant was 12-of-23 from the floor, including 4-of-9 from behind the three-point line. Durant is now averaging 31.2 points per game and shooting over 40 percent from behind the arc. The last player to do that was a guy named Michael Jordan.
For the Heat, James led them in scoring with 34, but he didn't get the kind of help that Durant did. Bosh, who has shooting very well as of late, was a little off his torrid pace but did hit 7-of-14 shots and finished with 18 points and nine rebounds. Dwayne Wade was the only other Miami player in double figures with 15.
The Heat are now 7-12 when they allow more than 100 points. In games where they do not, they are 25-1. Both teams will be in action in New York on Friday night. The Heat travel to Madison Square Garden to take on the Knicks, while Durant and the Thunder look to make it 10 straight against Brooklyn.