Steve Nash Gets Himself Into Hot Water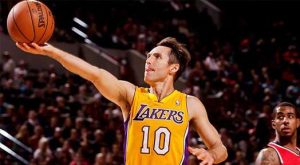 When a video of Steve Nash appeared on Instagram early last week, it was not what Lakers fans wanted to see. The 40-year-old point guard, who will miss the entire 2014-15 season with a back injury, was seen driving golf balls.
Laker fans everywhere, and the NBA community as well, wondered why Nash, who missed most of last season, could be on a golf course but not on the basketball floor. Nash has actually been participating in some light physical activities, including hiking in Sedona over the Halloween weekend. He posted pictures to his Instagram account. The video of him hitting golf balls is what put Lakers fans over the edge.
Nash has played 18 seasons in the NBA, averaging 14.3 points and 8.5 assists per game. He was signed by the Lakers prior to the 2012-13 season but played in just 15 games last year because of his back troubles. Nash's injury comes from nerve damage that affects his back. Last season, he could only play sporadically because of injury flare-ups.
The fact that Nash was able to twist his back and hit golf balls and even hike through the mountains of Sedona has some fans questioning the two-time NBA Most Valuable Player's heart. Nash will earn $9.7 million this year even though he will not play a game. The Lakers could have avoided paying him by waiving him and attempting to find another star to pair with Kobe Bryant.
The Lakers, though, see value in the aging Nash. The organization also knows what Nash can and cannot do. Hitting a golf or walking up a hill is no comparison to chasing NBA point guards up and down the floor. The activities that Nash participates in now are nothing like playing 31 minutes per game for 1,217 career NBA games. While he won't play this season, the Lakers are hopeful that the eight-time All-Star will serve as a mentor to some of the team's younger players.
With Nash out, Jeremy Lin takes over as the Lakers point guard. With this being the final year of Nash's contract with the Lakers, it is possible that the former Phoenix Suns draft pick has played his last NBA game.
Most Recommended