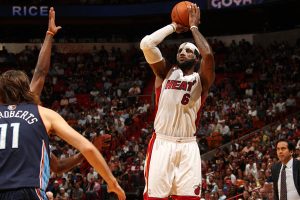 LeBron James poured in 35 points, his highest this season, as the Miami Heat beat the Toronto Raptors 104-95 on Tuesday. The game also marked the 500th in a row in which James has scored in double figures.
Dwayne Wade added 20 points and Ray Allen chipped in with 14 to give the Heat their first road win of the young season. James added eight rebounds and eight assists in becoming just the fifth player in NBA history to score 10 or more points in 500 straight games.
Since being held to eight points in a January 5, 2007, game at Milwaukee, James has scored in double figures every game. Michael Jordan had the longest such streak, scoring 10 or more points in 866 straight games. Hall of Famer Kareem Abdul-Jabbar had streaks of 787 and 508 games. Karl Malone (575) and Moses Malone (526) are the others to have reached the milestone.
What is also impressive about the game's best player is that he has scored 50 points or more nine times in his career. That is more than the number of times that he has been held to less than 10 points (eight). In 907 career games – playoffs included – James has hit double figures 898 times.
James will likely become the 18th player in league history to reach 25,000 career points. Currently, he has 21,209 with a career points per game average of 27.5. Continuing to score at that pace, King James will reach that milestone sometime towards the end of next season.
The list of accolades for the 11th-year player, who was the most sought after high school basketball player in America back in 2003, continues to grow. He entered elite company last year with his fourth league MVP award. The only other four-time winners in NBA history are Abdul-Jabbar, Jordan, Wilt Chamberlain, and Bill Russell. James has been to nine straight All-Star games, a streak that doesn't look like it is going to end anytime soon, and has won the last two NBA Finals MVPs to go along with his two NBA titles.
James and the Heat are now 3-2 and begin a four-game home stand on Thursday night when they host the Los Angeles Clippers.