Mariano Rivera Wins MVP, AL Wins All-Star Game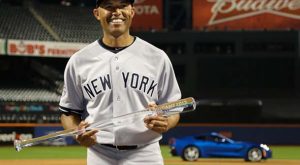 The National League managed just three hits against nine American League pitchers and future Hall of Fame closer Mariano Rivera pitched a perfect eighth inning to take home Most Valuable Player honors as the AL defeated the NL, 3-0, in the 84th Major League Baseball All-Star Game.
Mariano Rivera came on in the eighth, to a standing ovation, ensuring he would pitch in what will be his final All-Star Game. He threw 16 pitches and retired three straight batters and walked off the mound to yet another standing ovation. Joe Nathan pitched the ninth picking up the save.
The 2013 game featured several feats including a record 39 first-time All-Stars. Four of those players were 21 years of age or younger. The Mets' Matt Harvey, 24, was the youngest starting pitcher in an All-Star game since former Met Dwight Gooden started the game 25 years ago at age 23.
The AL got all the runs they needed in the fourth inning when Detroit's Miguel Cabrera led off the inning with a double and later scored on Jose Bautista's fly ball. Baltimore Oriels Adam Jones scored in the fifth after he hit a double off of NL pitcher Cliff Lee. Jason Kipnis hit a double to get the AL's final run in the eight off of Craig Kimbrel the Atlanta Braves pitcher.
Tom Seaver, Hall of Fame pitcher and former New York Met, did the honors of the ceremonial first pitch. The crowd of 45,186 was the largest ever at Citi Field, the home of the Mets, which opened in 2009. Neil Diamond had a crowd favorite performance of his hit "Sweet Caroline" mid field half way through the 8th inning. Marc Anthony performed "God Bless America" to complete the seventh inning stretch. Next year's game will be played in Minnesota with the 2015 game in Cincinnati.
Most Recommended