Memphis Grizzlies Eliminate Top Seeded Thunder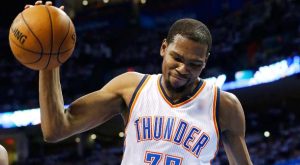 Zach Randolph put up 28 points and had 14 rebounds to lead the Memphis Grizzlies to an 88-84 victory over Oklahoma City and eliminate the top-seeded Thunder from the NBA playoffs.
The Grizzlies, who were swept out of the playoffs in their first three tries and had only one postseason series win, have made franchise history by advancing to the Western Conference finals which has never been done by any other team in their history. Memphis awaits the winner of the San Antonio-Golden State series, one in which the Spurs own a 3-2 lead.
Randolph and rising stars Marc Gasol and Mike Conley controlled the game for Memphis with Randolph supplying the offense and Gasol making life miserable for the Thunder offense. Conley scored 13 points and dished out 11 assists while Gasol had 10 points and grabbed seven rebounds.
Thunder star and league scoring champ Kevin Durant found the going tough against the grind-it-out Grizzlies shooting just 5-for-21 and finishing with only 21 points, one of the worst playoff performances of his career. Durant missed a jump shot from the left wing with just six seconds to play that could have pulled them even and possibly sent it to overtime.
Oklahoma City made the NBA finals last year, losing to Miami, and were considered a favorite to challenge the Heat's hold on the NBA title. That all changed due to a knee injury suffered by All-Star guard Russell Westbrook. The injury happened just two games into the first round of the playoffs. Without Westbrook, the Thunder went 2-6.
Serge Ibaka scored 17 points and point guard Reggie Jackson added 16 and nine rebounds for the Thunder. Despite falling behind by 14 points, the Thunder battled back and had an opportunity when Randolph missed two free throws with 11.3 seconds remaining in the game. Durant wound up with the ball but missed that potential game-tying jumper.
The Thunder are now 1-4 in postseason elimination games in the last four seasons. Of Durant's three worst playoff performances, two of them have come in those games. In 2010 in the first round, Durant went 5-for-23 against the Los Angeles Lakers in Game 6.
Most Recommended