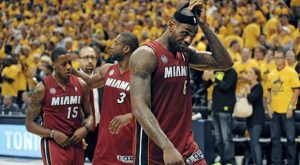 Two days after being manhandled by Indiana, the Miami Heat, led by LeBron James' 32 points, dished it right back to the Pacers winning 99-76 Monday night in Game 7 to return the defending champs to the NBA Finals for the third consecutive season.
Miami blew the game open with a 33-point second quarter and took a 52-37 lead into the halftime break. Dwayne Wade broke out of his funk and added 21 points while the final member of the Big Three, Chris Bosh, scored only nine points, but had eight rebounds and three blocked shots.
The Heat will now take on the San Antonio Spurs, winners of the Western Conference, in the NBA finals beginning this Thursday night. Miami becomes the first Eastern Conference team since the Chicago Bulls to win three consecutive conference titles.
The Pacers' duo of Roy Hibbert and Paul George was ineffective in Game 7. Hibbert did manage 18 points and eight rebounds, but George fouled out after scoring just seven points on 2-for-9 shooting. Indiana also uncharacteristically turned the ball over 21 times.
Wade's point total matched his postseason high and he led the Heat with nine rebounds. James added eight rebounds and four assists. Miami shot a blistering 87 percent (33-for-38) from the free throw line for the game.
Miami's decision to ramp up the pressure on defense was a good one by head coach Erik Spoelstra. The swarming and trapping by the Heat did a number on the Indiana offense. James took George completely out of his game as the Heat forced the 21 turnovers and owned the offensive rebounding edge 15-8.
James upped his record in game seven matchups to 2-2. His 32 points were just two shy of his game seven average, which happens to be the best in NBA history. With the resurgence of Wade and Bosh, the King didn't need to put the squad on his back this time around. In fact, James left the game with 5:08 to play to head to the bench and cheer on his teammates.