Miami Heat Made 17th Straight Versus 76ers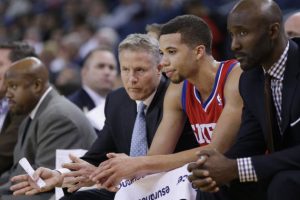 The Miami Heat made it 17 straight wins on Friday night as the Philadelphia 76ers visited American Airlines Arena. Since a 102-89 loss to Indiana back on February 1st, the Heat have reeled off 17 straight victories.
Last Wednesday Miami had built a 20-point lead over the Magic but watched it slip away as Nikola Vucevic tied a career high with 25 points, to go along with 21 rebounds. LeBron James saved the streak driving for the game-winning layup with just 3.2 seconds to go to give the Heat a 97-96 win.
Miami has had the upper hand on Philadelphia winning seven of the past 12 meetings between the two clubs. In their last meeting on February 23, the Heat shot 58 percent and beat the Sixers, 114-90. Dwayne Wade, the team's second-leading scorer behind James, led the way with 33 points that night. More important, the Heat committed a season-low six turnovers.
If Miami mustered up the type of performance again, with an solid 102 – 93 victory. The Heat are fifth in the NBA in scoring averaging 103.5 points per game and are shooting a blistering 49.5 percent from the field. James leads the team in points (27 per game), rebounds (8 rpg), assists (7apg), and steals (2 spg). The other two members of the Big Three, Wade and Chris Bosh, average 21.7 points per game and 16.8, respectively.
The Heat have a ways to go to reach the NBA's longest win streak set by the 1971-72 Los Angeles Lakers when they won 33 straight games. More recently, the Houston Rockets won 22 straight in 2007-08 and the 2008-09 Celtics won 19 consecutive contests.
For Miami and head coach Erik Spoelstra, they remain focused on the real prize – another NBA title. Seventeen straight regular season wins is great, but the Heat would much rather win 17 straight playoff games, which would net them a second straight NBA championship.
Most Recommended