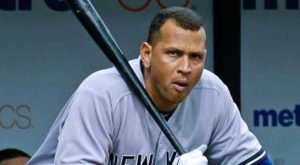 In a much anticipated decision, Major League Baseball finally announced the suspensions of 13 players, including New York Yankees' third baseman Alex Rodriguez, on Monday for their connections to the Biogenesis scandal at now-defunct anti-aging clinic in Coral Gables, FL.
As predicted, the league decided to suspend Rodriguez through the end of the 2014 season. "Obviously, I'm disappointed with the news today," Rodriguez said after learning of the decision prior to Monday's game with the Chicago White Sox.
Rodriguez played Monday night for the first time this season, going 1-for-4 as the White Sox pummeled the struggling Yankees, 8-1. The three-time MVP had hip surgery in January and had just finished a rehab stint in the minors before playing Monday.
MLB commissioner Bud Selig announced that Rodriguez's punishment will begin this Thursday, include the rest of this season and all of next season. Rodriguez violated the league's Basic Agreement provisions regarding performance-enhancing drugs. The harshness of his suspension is for his attempts to obstruct and frustrate the league's investigation.
David Cornwell, Rodriguez's attorney, has said that they would appeal the decision and "pursue all legal remedies available to Alex." Rodriguez will be allowed to play until the appeal is heard. Yankees' manager Joe Girardi commented, "He's here, he's going to play." Girardi has every intention of playing the 14-time All-Star.
The 12 other players suspended by the league are:
Nelson Cruz, Texas Rangers
Jhonny Peralta, Detroit Tigers
Everth Cabrera, San Diego Padres
Jesus Montero, Seattle Mariners
Francisco Cervelli, New York Yankees
Antonio Bastardo, Philadelphia Phillies
Jordan Norberto, Free agent
Fernando Martinez, New York Yankees
Cesar Puello, New York Mets
Jordany Vadespin, New York Mets
Fautino De Los Santos, Free agent
Sergio Escalona, Houston Astros
Both Peralta and Cruz were All-Stars this year and both the Tigers and the Rangers are contenders for playoff berths. Their 50-game suspensions could be costly should their teams make it to the postseason.
Two players, Gio Gonzalez of Washington and Danny Valencia of Baltimore, were cleared of any wrongdoing related to the Biogenesis investigation. Toronto's Melky Cabrera, Oakland's Bartolo Colon, and San Diego's Yasmani Grandal have already served their punishment of being suspended for 50 games and will not need to sit out any additional games related to Biogenesis.
Milwaukee's Ryan Braun was the first player to reach an agreement with the league and accepted a 65-game suspension just last month. Braun's suspension is through the end of the this season.