NASCAR Makes Some Big Changes For The 2014 Season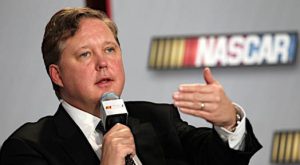 NASCAR president and CEO Brian France announced a series of sweeping changes to the sport's playoff system on Thursday. In an effort to bring NASCAR on par with other major sports in the U.S., the Chase for the Sprint Cup received a major overhaul.
The playoff field will be expanded to 16 with drivers who win one of the first 26 races of the season almost assured a spot in that field. The idea, according to NASCAR officials, is to place a primary importance on winning. Drivers who win one of those early season races can earn a playoff spot regardless of their point total.
The new Chase will consist of 10 races with drivers being eliminated after every three races. The field of 16, known as the NASCAR Chase Grid, will compete in the first three races, called the Challenger Round. After the third race, four drivers will be eliminated cutting the field to 12.
The next three races, the Contender Round, will be run to pare the field down to eight and races No. 33 through No. 35, called the Eliminator Round, will set the final field of four. Those four drivers will compete in the final race, No. 36, for the NASCAR Sprint Cup Championship. The final race is winner-take-all; the highest finisher wins.
The new format marks the first significant change to NASCAR since the Sprint Cup was introduced in 2004. France said that the changes were something that had been in the making for the past three years. NASCAR brass consulted with the majority of drivers, their teams, and sponsors to get their input on the new playoff system.
As are any new changes, they were met with positive comments from some and criticized by others. Many like the idea of the added importance of winning. Six-time Sprint Cup champion Jimmie Johnson was one of those who agreed that in order to be the champion, you should have win races. Of those who dislike the new format, most don't like the idea that a driver could one great race and qualify for the field of 16.
Most Recommended