New York Mets Working The Free Agent Market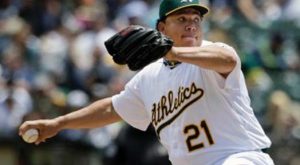 The New York Mets signed Bartolo Colon to a two-year, $20 million contract on Wednesday to help shore up the Mets starting pitching rotation. The Mets pitching staff took a hit when ace Matt Harvey announced he will miss the entire 2014 season while recovering from Tommy John surgery.
Colon, a right-hander who went 18-6 last year in Oakland, gives the Mets a big-time pitcher in a rotation that includes Dillon Gee, Jonathan Niese, and Zach Wheeler. New York will most likely reach into its wealth of young prospects to find the fifth starter, but could opt to sign another free agent, such as Daisuke Matsuzaka.
The Mets have been busy this off-season. On Tuesday, they announced the signing of OF Curtis Granderson, one of baseball's top free agents. Granderson signed a four-year deal worth $60 million. A career .261 hitter, Granderson will give the Mets a quality lead-off or No. 2 hitter in the lineup.
When you add in the acquisition of OF Chris Young, the Mets' off-season has been productive. In 2007, Young became the first rookie in the history of MLB to hit 30 home runs and steal 25 bases. Paired with Granderson, Young gives the Mets one of the most dangerous outfields in all of Major League Baseball.
The Mets, not known for their free-agent spending, will now try and use their surplus at first base to their advantage. With both Ike Davis and Lucas Duda returning, it is possible the Mets will try and shop one of the two and entertain any potential trades.
New York finished third, 22 games out of first place, in the National League East last season with a record of 74-88, ironically the identical record they finished with the year before in 2012. The Mets have not finished over .500 since 2008, the last year of a four-year stretch where they won at least 83 games per season.
Most Recommended