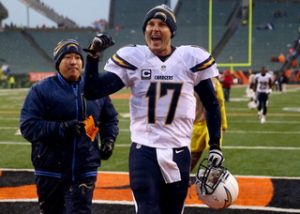 The second day of the wild card round of the NFL playoffs was just as good as the first as surprising San Diego took advantage of three second-half Cincinnati turnovers to beat the Bengals 27-10 and San Francisco got a 33-yard Phil Dawson field goal to beat Green Bay on the frozen tundra.
Trailing 10-7 at the half, the Chargers received a fumble and two interceptions courtesy of Bengals QB Andy Dalton to score 20 second-half points. San Diego QB Philip Rivers didn't have to do much (12-of-16 passing for 128 yards) as great field position gave the Chargers several easy scoring opportunities.
It was Rivers' 4-yard TD pass to LaDarius Green that put San Diego ahead in the third quarter, 14-10. Running back Ronnie Brown (8 carries for 77 yards) iced the game with a 58-yard TD run with just 2:17 to play.
Cincinnati holds on to the sixth-longest streak of seasons without a playoff win. The Bengals have not won in the postseason since 1990, a stretch of 23 seasons. Cincy has now lost three straight playoff openers, a league record.
In Green Bay, the Packers hung around but, in the end, the defending NFC champion 49ers had just enough to pull out a win. Once again, it was the legs of San Francisco QB Colin Kaepernick that would do in the Packers.
It was Kaepernick's 28-yard TD pass to TE Vernon Davis that put the 49ers ahead 20-17 with 10:31 to play. Packers QB Aaron Rodgers (17-of-26, 177 yards, 1 TD) then took Green Bay deep into 49ers' territory but the Packers had to settle for a Mason Crosby 24-yard field goal, which tied the game at 20-20.
Kaepernick answered with a huge scramble on a 3rd-and-8 to keep the game-winning drive alive. San Francisco will travel to Carolina next Sunday. The Chargers will play at Denver, a team they upset 27-20 on Dec. 12.