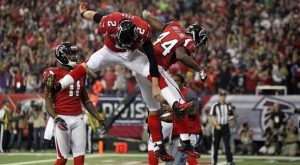 Week fifteen of the NFL season proved to be another interesting week as another team clinched a NFL playoff berth, the NFC East remained up for grabs, and a slew of teams still have a shot at a wild-card berth.
In Oakland, Kansas City Chiefs RB Jamaal Charles had 16 touches (eight rushes, eight receptions) and scored five TDs as the Chiefs secured a playoff berth with a 56-31 win over the Raiders. Charles gained just 20 yards on the ground, but had 195 receiving yards and caught four TD passes, the longest a 71-yarder from QB Alex Smith in the third quarter to put the game out of reach. The Chiefs, who won just two games last season, can still win the AFC West, but would need help in the form of Denver losses.
The Dallas Cowboys jumped out to a 26-3 halftime lead on Green Bay as Dan Bailey kicked four field goals and RB DeMarco Murray had 93 of his 134 yards. But, the Cowboys abandoned the running game and allowed the Packers to come back and defeat them, 37-36, matching the biggest comeback in Packers' history. Running back Eddie Lacy rushed for 141 yards on 21 carries and scored the game-winning TD on a one-yard run while QB Matt Flynn threw four second half TD passes. Dallas falls to 7-7 and is now in second place in the NFC East behind Philadelphia. Green Bay (7-6-1) kept its slim playoff hopes alive with the win.
Philadelphia, which had a chance to extend its lead in the division on Dallas, fell victim to the Minnesota Vikings, who played with Adrian Peterson and Toby Gerheart. QB Matt Cassel threw for 382 yards and two touchdowns and third-string RB Matt Asiata scored the first three rushing TDs of his career.
In Miami, Ryan Tannehill's 14-yard TD pass to Marcus Thigpen with just 1:15 remaining in the game gave the Dolphins a 24-20 victory over AFC East-leading Miami. The final minute was plenty of time for veteran QB Tom Brady to march the Patriots down the field and almost pull off the comeback. On a fourth-and-five from inside the Miami 20-yard line, Brady threw an errant pass that was picked off by Michael Thomas, a reserve safety, ending the come-back effort.