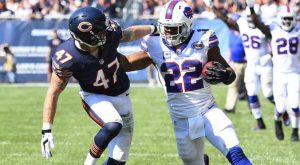 The first week of the 2014 NFL season began with defending Super Bowl champion Seattle leaving no doubt that they are still the team to beat and featured a few Sunday surprises.
After a Mason Crosby field 23-yard field goal tied Green Bay with the defending champs, the Seahawks flexed their muscle again and dominated the Packers in a 36-16 victory. Marshawn Lynch rushed 20 times for 110 yards and two second half touchdowns while QB Russell Wilson completed 19-of-28 passes for 191 yards and two more scores. The vaunted Seahawks defense held Green Bay to just 255 total yards.
In Sunday action, the biggest surprises came from AFC East members Buffalo and Miami. The Bills, led by Fred Jackson and Anthony Dixon, rushed for 193 yards, controlled the line of scrimmage, and defeated the Chicago Bears, 23-20. The Bears pass rush, which added veteran defensive end Jared Allen in the offseason, couldn't get much pressure on Buffalo's second-year QB E.J. Manuel, who hit 16-of-22 passes for 173 yards and a TD.
The Dolphins absolutely dominated Bill Belichick's New England Patriots in a 33-20 win. It was the Patriots first loss in a season opener since 2003. New England led, 20-10 at the half, but the Dolphins exploded in the second half, scoring the game's final 20 points. Knowshon Moreno led Miami with 134 yards on 24 carries and a four-yard TD run in the fourth quarter. Patriots Pro Bowl QB Tom Brady was 29-of-56 for 249 yards and one score.
In Pittsburgh, all eyes may have been on Johnny Manziel, but that quickly changed as the rookie manned the sideline for the entire game while starter Brian Hoyer rallied the Browns from a 27-10 deficit to tie the game with just over 11 minutes remaining in the fourth quarter. Steelers QB Ben Rothliesberger led the game-winning drive that culminated with a Shaun Suisham 41-yard field goal as time expired.
Atlanta's Matt Ryan threw for 448 yards to lead the Falcons to a 37-34 win over rival New Orleans in the season's first overtime game.
A not-so-surprising outcome occurred in Dallas where the Cowboys were manhandled by the San Francisco 49ers. The Niners led 28-3 at the half thanks to two Vernon Davis touchdown receptions and a 35-yard fumble return by Chris Culliver.