2012 NFL MVP Who Are The Current Candidates?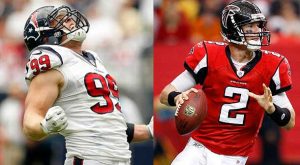 As we enter Week 13 of the NFL Season, there's a lot of debating going around regarding which player currently stands as this season's MVP. Of course, there's still a lot of football to be played, but there are plenty of games in the bank to make a sound prediction at this stage. Below we take a look at the current top 2012 NFL MVP candidates (in no particular order).
Matt Ryan (Atlanta Falcons, 10-1) – Ryan has been quite efficient this season as he's lead his Falcons to a nearly flawless season. Ryan is currently #2 in total passing yards with 3,429, only four yards behind the league leader, Matt Stafford. He's also #2 in completion percentage (68.5). At this point, he's just about secured the NFC South. A strong finish will put a cherry on top of an awesome season and further strengthen his MVP case.
Tom Brady (New England Patriots, 8-3) – Like Manning, Brady is still Brady. He's currently top 5 in most categories. Brady is #9 in completion percentage (65.1), #5 total passing yards (3,299), #4 in total TDs (24), and #2 in QB Rating (105.0). While he and the Patriots haven't been as dominant as previous years, they're still a handful to deal with. The numbers don't lie. Brady is still one of the top players in the NFL and everyone knows it.
Drew Brees (New Orleans Saints, 5-6 ) – Despite the Saints' mediocre season, Brees is still a stats machine, a fantasy football freak's dream. Brees currently ranks fourth in the league with 3,333 passing yards and he's the league leader with 31 TDs. He's one great game away from overtaking Detroit's Matt Stafford as the passing leader. We know statistics alone don't make an MVP, but if Brees catches fire during the last month of the season, he will make a strong case for himself regardless of where his team finishes.
2012 NFL MVP candidates
Peyton Manning (Denver Broncos, 8-3) – The revitalized Denver Broncos are off to their best start in years and are virtual locks to win the AFC West with 5 games remaining and Manning has everything to do with that. Statistically he's top 5 in most categories. Manning is #3 in completion percentage (67.7), #6 total passing yards (3,260), #3 in total TDs (26), and #3 in QB Rating (104.8). Best of all, he's proven to still be his typical self by generating some great comebacks come crunch time. Most NFL analysts have opined that he's currently the front runner to win this year's MVP award.
Aaron Rodgers (Green Bay Packers, 7-4) – Rodgers' Packers have had their share of issues this season. Nevertheless, Rodgers still remains as one of the top 3 QBs in the game. He sits at #1 with a QB Rating of 105.6 and he's #2 in total TDs (28), only 3 behind the league leader Drew Brees (31). If he can lead the Packers to another strong finish, he will have as good as chance as any of the top candidates, to notch another MVP trophy.
Adrian Peterson (Minnesota Vikings, 6-5)- In 2012 Peterson has acquired his "swag" again. He currently leads all RBs with 1,236 total rushing yards and an average of 112.4 rushing yards per game. It goes without saying, Peterson is once again the most dominant back in the game. Unfortunately for him, he plays on the Vikings, a team which hasn't been very consistent this year. It's highly doubtful that Peterson's great season can earn him an MVP award because at this point the Vikings chances of making the playoffs continue to slip with each passing week.
2012 NFL MVP candidates
Eli Manning (New York Giants, 7-4) – Manning and the Giants haven't always been consistent this season but what's new, right? As we've grown accustomed, the Giants always seem to click when it matters the most, playoff time. Most recently Manning led his team to a rout of the highly touted Green Bay Packers. If he and the G-Men can continue to crush the competition on their way towards another playoff run, Manning will be right there with the best of them. His biggest knock of course is the fact that his statistics don't matchup with the other top QBs. In fact, Manning is currently rated the overall #19th QB in the league. Ultimately, that may be his MVP undoing regardless of how the Giants finish.
Also you can't count out a few honorable mentions like J.J. Watt from the Houston Texans and the Rookie Robert Griffin III who is undoubtly the MVP for the Redskins. As we approach the December stretch we will see who steps up to claim the prize.
Most Recommended