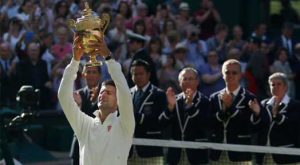 It was the seventh Grand Slam victory for the world's No. 1-ranked men's tennis player, Novak Djokovic, who defeated Roger Federer 6-7 (7), 6-4, 7-6 (4), 5-7, 6-4 on Centre Court in a match that lasted over four hours. It was the second Wimbledon championship for the Djokovic, who also won in 2011.
Federer won the first set in a tiebreaker, but lost the second and third sets. In the fourth, down 5-2 and facing match point, the 17-time Grand Slam champion, battled his way back. Down 5-4, Federer faced another match point after he put an easy backhand into the net. Federer fired a serve that was initially ruled out, but after a replay review was ruled an ace, one of 29 he had in the match.
After Federer's fourth set victory, the crowd was definitely leaning toward the Swiss veteran in his quest for an 18th Grand Slam and an eighth Wimbledon title. It was not meant to be though as Djokovic found an answer for everything Federer threw at him in the fifth and deciding set.
Djokovic will take over the world's No. 1 ranking again. Rafael Nadal, who was ranked in the top spot, was beaten in the fourth round at Wimbledon. Federer, who at 32 years of age, is on the downswing of his illustrious career, is currently ranked fourth. Nadal will likely fall to No. 2, followed by Stan Wawrinka, Federer, and Great Britain's Andy Murray.
Djokovic, who lost to Nadal in this year's French Open final, claimed his first Grand Slam victory since his win at the 2013 Australian Open. Djokovic will go after his eighth Grand Slam title later this summer at the U.S. Open, held in New York in late August.
Between 2003 and 2007, Federer won a record five straight Wimbledon championships.