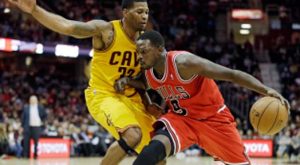 In 2005, Andrew Bynum was a 17-year-old potential basketball superstar who decided to forgo college and enter the NBA Draft. He was the 10th overall pick of the Los Angeles Lakers and in his rookie season, became the youngest player to ever play in an NBA game. Now, his saga continues after being traded to, and subsequently released by, the Chicago Bulls.
On Tuesday, Bynum was traded by the Cleveland Cavaliers to Chicago for Luol Deng, currently the Bull's best player. The addition of Deng gives the Cavs a competent and skilled big man and leaves Bulls coach Tom Thibodeau with a very thin roster. The Bulls decided to put Bynum on waivers rather than pick up his $12.3 million salary. Trading Deng and then releasing Bynum will save the team $20 million as they await the return of star point guard Derrick Rose next season.
Bynum played seven seasons for the Lakers, his best coming in 2011-12, his final year in Los Angeles. The 7-footer averaged 18.7 points and 11.8 rebounds per game in leading the Lakers to the Western Conference semifinals.
In August of 2012, Bynum was traded to the Philadelphia 76ers in a deal that also sent Dwight Howard to the Lakers. It was around this time that Bynum really began having trouble with his knees. He had some knee trouble throughout his career but nothing as serious as the problems that would force him to miss the entire 2012-13 season.
Almost a year later, Bynum signed a two-year deal with Cleveland and was averaging a little over 8 points and 5 rebounds per game when he was suspended on December 28th for what was deemed conduct detrimental to the team.
With the suspension and the questionable knees, the Cavaliers began to shop Bynum to other teams. Cleveland made a deal with Chicago that included a future first-round pick, two second-round picks and the option to switch first-round picks in next year's draft all for Deng. Once the Bulls had the rights to Bynum, they decided to dump him, save the $20 million, and forgo having to pay the NBA's luxury tax. Teams with a payroll higher than $71.7 million, must pay a tax to the NBA.
Bynum should clear waivers and, once he does, he will be free to sign with any team in the league. At this point, it appears that the New York Knicks, Los Angeles Clippers, and the defending champion Miami Heat may be interested.