Racing World Shocked; Tony Stewart Will Not Race At Watkins Glen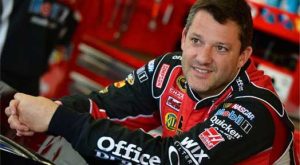 A year after an accident in Iowa during a Sprint Cup race where he suffered a compound fracture, Tony Stewart was involved in another horrific incident Saturday at Watkins Glen. Driving in a 25-lap race, Stewart struck and killed driver Kevin Ward Jr. As a result of the accident, Stewart will not race Sunday in the Cheez-It 355 at The Glen.
A three-time NASCAR champion, Stewart was severely distraught after the accident. It occurred during a caution flag in the Saturday night race at Canandaigua Motorsports Park. It appeared that Ward, who was wearing all black, left his car to confront Stewart. Ward approached Stewart's car but was hit and was thrown 50 feet. The young driver was taken to a nearby Canandaigua hospital where he was later pronounced dead.
Stewart was behind another driver as Ward approached. The first car swerved and just missed striking Ward. It appeared that Stewart was unable to avoid Ward. Emergency personnel immediately attended to Ward.
The Ontario County Sheriff was on hand to investigate and has stated that their investigation is not criminal. Stewart was questioned and was visibly upset and cooperative. The sheriff's office is asking any spectators who may have video of the incident for copies to further review the accident.
This was not Stewart's first accident at Canandaigua Motorsports Park. In July of last year, he was involved in a crash that seriously injured a young driver. Stewart later said he was responsible for the wreck that wound up involving 15 cars.
Even though Stewart is a champion NASCAR drive, he still enjoys racing in events with purses less than $3,000. After his injury last year, he continued to participate in such events.
Stewart's absence on Sunday will not have a huge impact on his making the Chase if he can pull out a victory prior to its beginning. After Sunday's race, there are four more left on the schedule: Michigan, Bristol, Atlanta, and Richmond. A victory in any of the four will land Stewart in the Chase.
Most Recommended