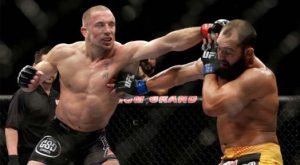 After a five-round slugfest, Georges St-Pierre defeated Johny Hendricks by split decision defending his UFC welterweight title for the ninth time Saturday night. Many, including UFC president Dana White, were surprised by the decision, believing that Hendricks had won the fight.
White publicly stated that he believed Hendricks won the fight and even went as far as saying that St-Pierre and his corner knew he lost. As a result of UFC 167, White will immediately seek a rematch between the two fighters.
The fight was close throughout, though Hendricks punches seemed to do more damage. In the second round, he caught St-Pierre with an uppercut that buckled the champ's knees. St-Pierre recovered and landed several clean strikes in the third round. In the fourth round, Hendricks executed a fantastic takedown, but then allowed St-Pierre to get back up. In the fifth, St-Pierre caught the challenger with a vicious right hand.
When it was all said and done, two judges scored the fight 48-47 for St-Pierre and the third scored it 48-47 in favor of Hendricks. As the decision was read, the capacity crowd booed and St-Pierre hinted at retirement. He said that he needed to get away from fighting for a while, but was not definite about retirement.
It was the first time in his career that St-Pierre won by split decision. With a career record of 25-2, the champ is one of the most decorated fighters in UFC history. With the win, St-Pierre broke the UFC record for wins in the Octagon with 19. He passed Matt Hughes who won 18 fights during his UFC career.
Hendricks is now 15-2 as a UFC fighter. He was a two-time NCAA champion wrestler at Oklahoma State University before entering the UFC in 2007. He won nine straight before a loss to Rick Story by decision in December of 2010.
White will work diligently to ensure a rematch between the two fighters. He also stated that the Nevada state government may need to step to make sure that the state's athletic commission is run properly. Should St-Pierre and Hendricks fight again, it most likely will not be in Las Vegas.